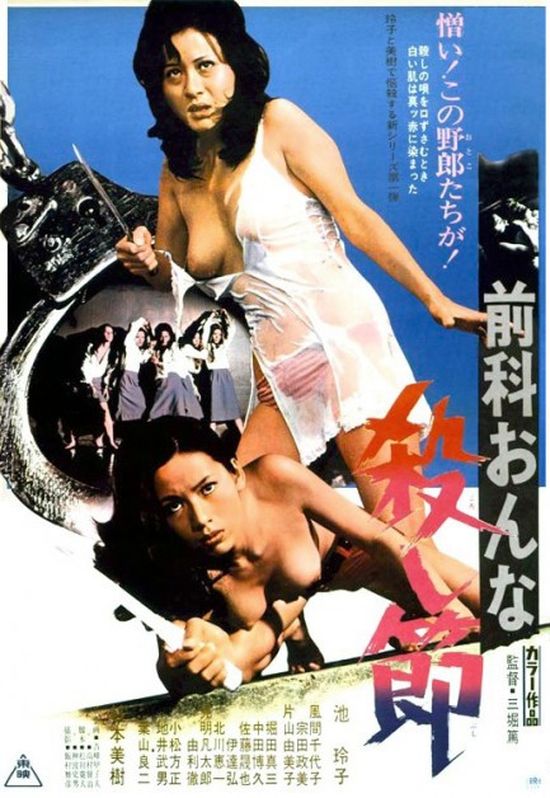 Year: 1973
Duration: 01:22:46
Directed by: Atsushi Mihori
Actors: Reiko Ike, Yumiko Katayama, Chiyoko Kazama, Masami Sôda, Miki Sugimoto, Ryoji Hayama, Shinzo Hotta
Language: Japanese
Country: Japan
Also known as: Zenka onna: koroshi-bushi
Description: Criminal Women – Killing Melody is one of the finest of sukeban and female yakuza one-offs, helmed by novice director Atsushi Mibori, who was also behind the camera the same year on the audacious, manga-derived Cruel High School – Bad Boy (Hijo Gakuen – Waru, 1973-1974) trilogy starring Hayato Tani and Mari Atsumi (Slave Widow). Casting Reiko Ike (Sex and Fury) and Miki Sugimoto as slightly older protagonists, the film mixes elements from both the Female Convict Scorpion and Girl Boss series as well as other contemporary Toei yakuza pictures. Ike makes various attempts at violent payback on a yakuza boss (Ryoji Hayama) and his men, the hoodlums responsible for her gang rape and her father's ruin and death.
Her first knife attack on them in a nightclub lands her in prison. She's soon befriended by Chiyoko Kazama, Yumiko Katayama and others, but becomes rivals with inmate Miki Sugimoto, who happens to be Hayama's mistress. There are wild flashbacks showing how some of the girls ended up behind bars. One of the most amusing shows Kazama, a girl who went on a drunken motorcycle rampage and injured a pursuing cop when her tossed-beer bottle conked him on the head. Ike and the girls get released mid-film, and her new playmates opt to aid her in her vendetta. Soon they're fomenting a Machivellian gang war between debauched hood, Takeo Chii's bunch and Hayama's mob. Inevitably, Sugimoto, though once more securely ensconced as the only woman in Hayama's stronghold, decides to offer help in sabotaging the gang from the inside.
The climax sees every yakuza exterminated. When the dust settles, all the girls have miraculously survived. But Ike and Sugimoto immediately feel the need to rekindle hostilities, first with knives, then with their fists on the corpse-strewn battlefield. Muddy, bloody and their energy at last spent, the two shakily rise up as true comrades. Director Mibori acquits himself well with exhilirating action, intoxicating visuals and a sense of humor that is more often than not effective (compared to the broad slapstick in various other 'pinky violence' pictures).
Review: Once in the same prison at will doom will be together for five girls. Behind every crime will be of varying severity. First, the girls will arise between a conflict, but then the relationship will improve. A few years later, already in the wild, fate will bring them again to check the strength of female friendship. After all, the girls will be participating in the disassembly of the two groups yakuza. And all because of one of the former zechek vengeance is ready for the most desperate things.
Screenshots:
Trailer:
[flashvideo filename=/wp-content/uploads/Video/Criminal_Woman_Killing_Melody_Trailer.flv /]
Download: