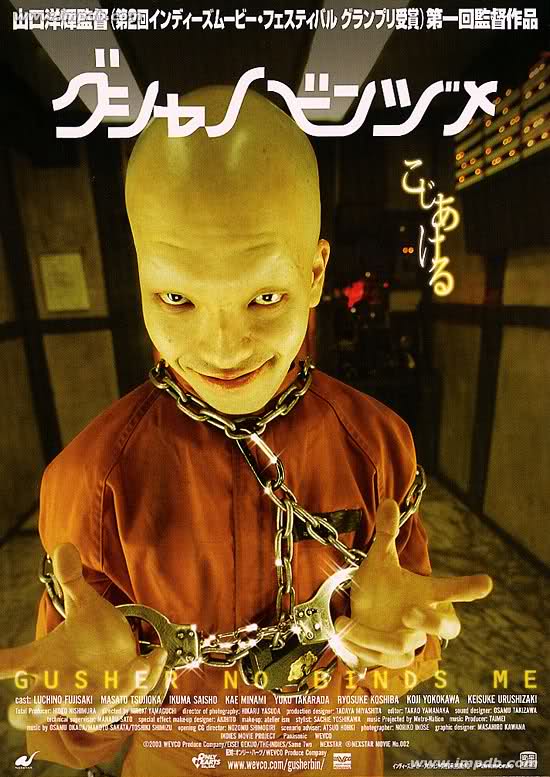 Year: 2004

Duration: 01:37:19
Directed by:  Hiroki Yamaguchi
Actors:  Luchino Fujisaki, Yoshiichi Kawada, Ryôsuke Koshiba
Language: Japanese | English Subtitles

Country: Japan
Also known as: Gusha no bindume, Gusha no binzume, Gusher No Binds Me, Hellevaator, The Bottled Fools
Description:Hellevator (and this is the original translation of the title of the film) is a classical representative of cyberpunk. Here there is all the attributes of the genre: progressive technologies that can be seen not only on the example of the lift (riding the cities, as stated in the abstract, and on levels, with strictly vertically), but» pet» little girl, and anti-utopic world, and the decline of the social order. Huge dark levels – tunnels strictly share society in layers and functions, and only in the Elevator they can meet. Agree that the idea is very original, though simple. After all, in the Elevator you can meet anyone, and the more he stops, the greater the likelihood that the inside will be absolutely different people. And happening in the movie. Luchino Fujisaki – mentally unbalanced schoolgirl-telepath, hiding from the Department of Protection for non-level. Woman with a carriage in which, as it turns out, not the child. Professor and doctor with the diplomat full of money. Detached from the only guy with headphones. Unflappable girl, managing lift. And in the result of emergency stop adding colorful trio of nervous representative of the Department of security, accompanying on the» cleansing» of the small possessed the canadian-rapist and large man-the Demoman. Soon the accident occurs in which develops terrible drama.
To pay tribute to the young Director and screenwriter Hiroki Yamaguchi, who at the time of the release of the film was just 25 years. He could not only create a tense atmosphere in the Elevator, but to convey the General spirit of cyberpunk environment. If, say «964 " Pinocchio» to display the atmosphere was used by the city, all the action takes place in confined spaces, which in my opinion makes it harder, but it gives the share of claustrophobia, pressing on the subconscious. Good camera work and interesting musical series enhance the overall impression. Another interesting nuance – acting very unusual for Japanese cinema. There is no pathos of facial expressions (cannibal rapist is excluded, as is stamped the image of a maniac) and unfounded hysteria, which makes the picture more attractive for non-Asian audience. At the same time not without tightened monologues and dialogues that take place mainly in the office of the inspector during the whole film. Slightly disappointed role Masato, which waited the whole movie is something extraordinary, given its experience in such films, and as a result the remaining practically irrelevant.
The ending of the movie still left a good impression. We were shown the procedure of purification, as expected, reminiscent of the famous «A Clockwork Orange». In addition, the Director decided to give us a chance to see the mysterious « zero level», which during the film afraid even to talk without exception, in giving food for thought, which is very important.
Screenshots:
Download: