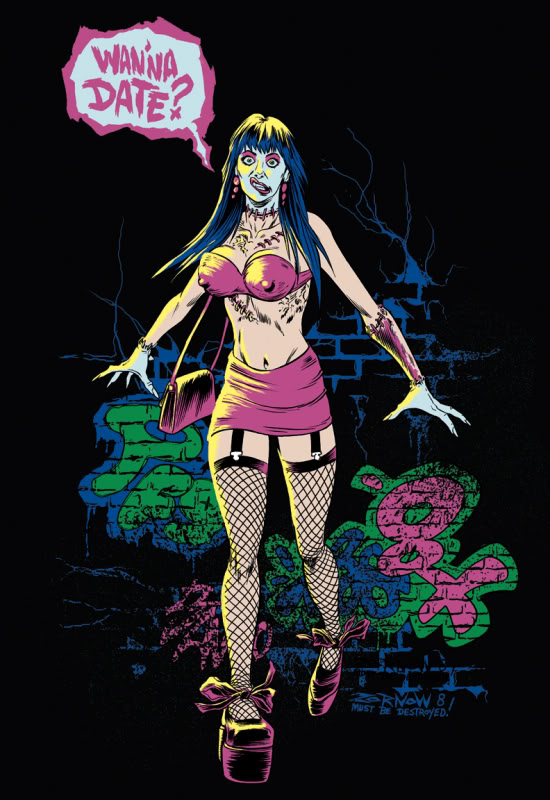 Year: 1990
Duration: 01:24:13
Directed by: Frank Henenlotter
Actors: James Lorinz, Joanne Ritchie, Patty Mullen
Language: English
Country: USA
Also known as: 
Description: If you haven't seen this, then you are missing out on a great movie. The movie Frankenhooker starts with the death of Jeffrey's girlfriend by a freak lawnmower accident. Unfortunately the only thing left of her is a head along with a few random parts. This leads him to create a new body out of dead hookers; hookers who exploded from taking supercrack synthesized by Jeffrey. I will leave everyone with that mental image. Filmed by Frank Henenlotter (Bad Biology)

Review: Frank Henenlotter shot a memorable and specific picture "Being in the basket," removing one more film, suddenly disappeared from the director's career. And in the end of the 80 fired again. Possessing no small amount of money in the amount of five million Henenlotter decided to make a sequel to the film "Being in the basket" and a separate film black comedy parody on "Frankenstein" with the sonorous name "Frankenshlyuha."
The film is the story of Jeffrey, he is not quite a doctor, he was kicked out of three medical schools. He is a lover of all sorts of elaborate mechanical contraption and also delve into the human anatomy. One "beautiful" day quite silly and absurd death kill his future bride Elizabeth under the mower, which grinds the poor thing into small pieces. The thing is, without thinking twice, he decided to gather your favorite returning it to life. But the problem is that from her left leg, but the head. Jeffrey drilling in the head, had the idea After reaching the missing body parts from prostitutes. The boy certainly strange, talking to the head and other parts of the body of his beloved. Thus, when it milled through the machine on his face special loss was not significantly. But then Jeffrey himself in a conversation with her mother as answers to questions, saying that it is: anti-social and dangerous amoral, who does not understand what is good or bad is in the void of madness and all that.
I wonder why when Jeffrey drills his head he does not have a drill and drill a pure blood. And when it does not blow up prostitutes naturally somehow logical to assume that the same person after the blast room or any area in the county is in the blood and pieces of meat but in "Frankenshlyuha" room after the explosion smoked. And then why he took up welding, do not sew the body parts that then they have grown together? Something I did not quite understand at first his methods. In general, it looks like a cranky – sucker, not a genius and an evil doctor. But in all this there is a reasonable explanation for Frank Henenlotter deliberately avoided blood and similar bloody feast unlike his previous work "of brain damage." This picture should not be taken as a blood-treshevuyu brutal thing. "Frankenshlyuha" is absurd and crazy story with a specific content. Such as flying heads and hands but everything does not sink in the blood and in fact the logic of things should be in the blood. Have only this one can be seen as absurd.
Screenshots:
Download: