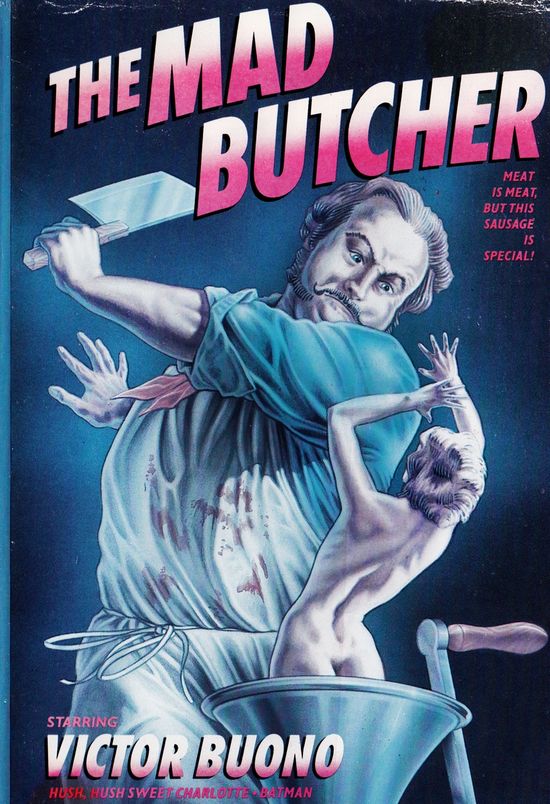 Year: 1971
Duration: 01:21:20
Directed by: Guido Zurli
Actors: Vicotr Buono, Brad Harris, Franca Polesello
Language: English
Country: Italy/Germany
Also known as:  Lo strangolatore di Vienna, Der Würger kommt auf leisen Socken
Description: Otto Lehmann gets out from the psychiatric hospital, where he spent three years, and returned to his wife, who all this time was running a meat business. Otto started working as a butcher, the city carries on the sausage and trying to restore his reputation as one of the best producers of meat products in Vienna. But it soon becomes clear that Otto is not fully recovered, when he begins to kill women and use their bodies for making sausages …
Review: Otto Lehman works as a butcher. He's fat, mustachioed and insane. At one time, Otto even managed to sit in a mental hospital. However, in a mental hospital stints weather did not, and our protagonist is still abnormal.
On the contrary live girl who likes to undress and put things in front of the window marafet Otto. Psychopath is our liking and he is not averse to secretly watch every night for "striptease". One of the usual evening found him at this naughty wife affair. Naturally it suits scandal and almost did not want to leave her husband. Otto, in turn, was too angry and accidentally strangles his wife in a fit of passion. Get rid of the corpse Otto decides on a specialty. So what? Torsion of the sausage, but sell to unsuspecting little people (and even those will praise sausages Otto, they say what they delicious). Now any conflict our butcher decides strangulation …
If someone came up to the role of Ignatius Reilly of "collusion Dunces" because it is Victor Buono. The character is a rambunctious, and even travels with a cart, pritorgovyvaya sausages. Graphic illustration of the same! Now some of my impressions of the film itself. It turned cinema and comedy and with some semblance of suspense. However, there is still lack of seriousness takes over. Yes, and Otto Lehman comical, of course. Whimsical mustache, chubby … In short, the stereotypical wop-wop. For its time, the film is fresh and funny. Enjoy!
Screenshots:
Download: