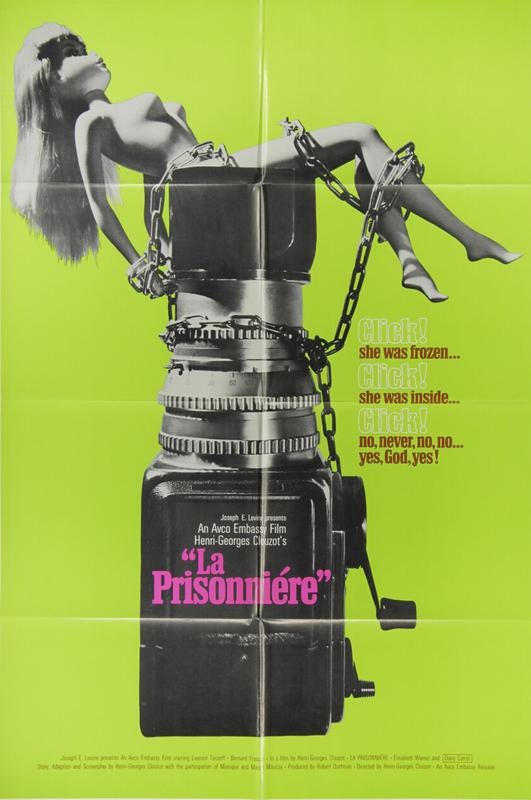 Year: 1968
Duration: 01:41:40
Directed by: Henri-Georges Clouzot
Actors:  Laurent Terzieff, Elisabeth Wiener, Bernard Fresson
Language:  French
Country:  France, Italy
Also known as:  La prisonnière, Female Prisoner,  A Prisioneira, Fanget af en erotiker, La prisionera, Kahlitut, I fylakismeni, La prigioniera, Tittaren,  Woman in Chains, Seine Gefangene
Description:He – the owner of Gallery of Modern Art (with an emphasis in replicate), collector and finally, a photographer. Cool and mysterious handsome man. She – film editor, her husband – a designer of art objects. She will discover an unusual art form, but it is an art to it too much, she does not even understand myself, how much.
In my opinion, it's more a prisoner of his habits and prejudices than men captive. Maybe for him it is too simple-minded chick and he for her – a very strange man. Will they find a common language?
The work of the artist and the operator – is just fine, especially as we face mediocre drama. Yes, yes, no, or even BDSM erotica, despite the controversial cover.
Movies with Elizabeth Wiener continue to watch for now I will not. Laurent Terzieff gorgeous. Dany Carrel as always in the role of a cute slut.
In the "Female Prisoner" we are told very funny story about a girl who is probably very boring to live with her companion. Accidentally pushes her fate with a cold hero Laurent Terzieff who practices a very strange form of relationship with the girls. He pays them for the work model completely destroying their feelings and desires, making their captives.
By visiting one of the "sessions" in which Laurent Terzieff "removes" the heroine Dani Carrel, the heroine feels very deep feelings. Soon, she will make every effort to be with this man more time and immerse yourself in his hobby.
Screenshots:
Download: