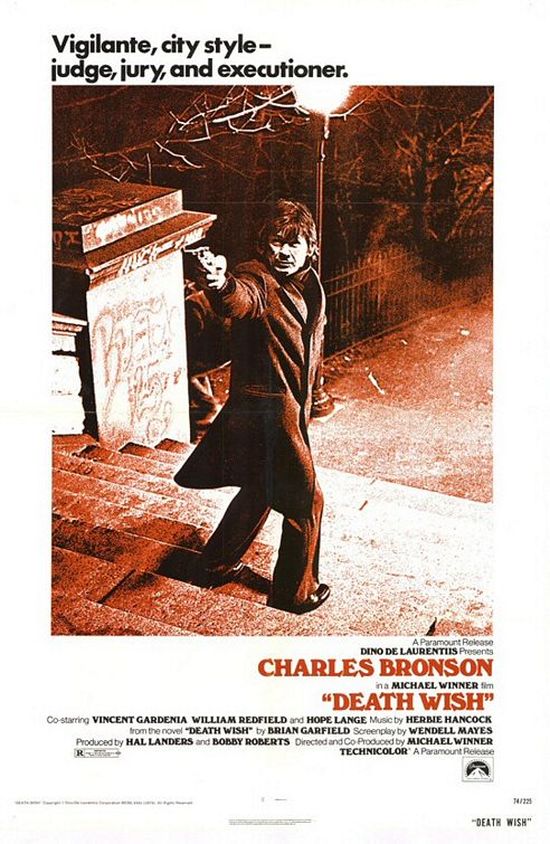 Year: 1974
Duration: 01:29:53
Directed by: Michael Winner
Actors: Charles Bronson, Hope Lange, Vincent Gardenia, Steven Keats, William Redfield
Language: English
Country: USA
Also known as: El vengador anónimo, The Sidewalk Vigilante, Un justicier dans la ville, Desejo de Matar
Description: Violence borns violence … Relentless "New York Avenger" takes the law into his own hands. The wife and daughter of a New York businessman Paul Kersey became victims of the gangs of street thugs. Instead of relying on the police, burning with vengeance, Kersey picks up a gun and  dispenses justice. He goes out into the streets overnight in New York and begins the hunt for vandals and rapists. The fame of the ruthless "New York Avenger" is spread all over the country …
Review: I would call the "Death Wish" movie one of the best in the "people's avenger" and Charles Bronson's (Rider on the Rain and Forbidden Subjects) best role, despite its proven track cast list.
In my opinion, the success of the image Kersey in America and around the world is based not only on the excellent direction and acting. Unlike many other Avengers-supermen, Kersey – not the former special agent, not a former champion in karate and shooting does not have supernatural powers. He – an ordinary citizen, which absorbed all the positive qualities of folk hero. Probably every man has a boyish distant memories when he imagined himself in a critical situation in which he would be brave, determined and strong person, upholding justice, punishing villains, protecting the weak.
Great movie! Most of it is devoted to no violence (though they dropped dramatically), and thinking hero has a right to an honest citizen to take justice into their own hands if the government is unable to protect him?
Screenshots:
Download: