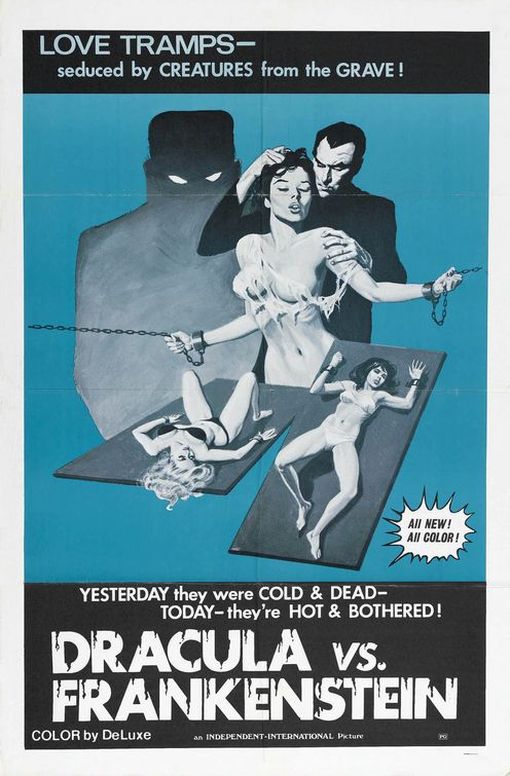 Year: 1971
Duration: 01:30:48
Directed by: Al Adamson
Actors: J. Carrol Naish, Lon Chaney Jr., Zandor Vorkov
Language: English
Country: USA
Also known as: Teenage Dracula, Blodsmässa, Verimessu, Dracula contre Frankenstein, Dracula à la recherche de Frankenstein, Drakula kontra Frankenstein, Blodsmässa, Blood Freaks, Blood of Frankenstein, Satan's Blood Freaks, The Blood Seekers, The Revenge of Dracula, They're Coming to Get You, Draculas Bluthochzeit mit Frankenstein
Description: Another Al Adamson "Classic" from my collection.  Originally slated to be a sequel to "Satan's Sadists" I think they changed thier minds half way through and made this highly incompetant horror flick instead.
Things start well and we have a highly amusing vampire and a beheading all in the first 6 minutes.
It soon becomes clear however that this is no masterpeice of cinema and the plot is going to take a back seat.  We're treated to a seemingly random series of skits featuring scared groovy people, bad acting, bikers, mad scientists and monsters.
Russ Tamblyn and his biker gang seem to wander around for no apparent reason and with no obvious connection to the rest of the film, no point wasting good footage when you can splice it into the finished film as padding is there?
Count Dracula's spooky trapped in a cave voice coupled with his undead acting skills are a real treat to behold.
Groton is handy with an Axe.
Dr. Frankenstein wheels around his lab flicking switches and mixing test tubes like a good un.
If you liked "Brain of Blood" you'll probably like this one too, I did!
This is the last film both J Carrol Naish and Lon Chaney Jr. star in before their deaths in 1973.
First and foremost notable for the pairing of Lon Chaney Jr., and J. Carrol Naish (seen together in House of Frankenstein as, respectively, Larry Talbot/Wolf Man, and Daniel the hunchbacked assistant of Karloff's Dr. Niemann)– and being the final appearance by either man in any film. They bowed out together, almost three decades after they first appeared together in Kenton's House of.. Plus FORREST ACKERMAN is in it! And ANGELO ROSSITTO!!!
Dracula vs. Frankensteinis quite a specimen of early-70's z-grade mush. There's more possibility for camp in this than Cub Scout Central!
Screenshots:
Download: