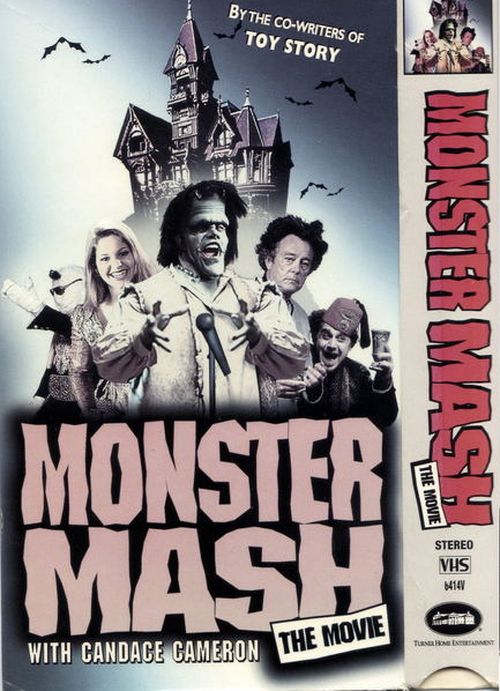 Year: 1995
Duration: 01:23:05
Directed by: Joel Cohen, Alec Sokolow
Actors: Ian Bohen, Candace Cameron Bure, Sarah Douglas
Language: English
Country: USA
Also known as: Frankenstein Sings
Description: Low-budget, campy musical based around the famous Halloween-themed song. A teen-aged couple are trapped in Dr. Frankenstein's castle with a handful of weird creatures including Frankenstein's monster, Igor, Dracula, Wolf Man, an Elvis Mummy and JJ from "Good Times." (Yes. That JJ.)
Directed by JOEL COHEN and ALEC SOKOLOW (co-writers of "Toy Story", "Garfield" and "Daddy Day Camp").
Starring BOBBY PICKETT (the co-writer and original performer of "The Monster Mash" song), who adapted the script from his own stage musical, which was co-written by Sheldon Allman.
This movie is kid friendly. Though there is some double-entendre humor that most kids (and some adults) won't catch. The monsters are silly, the jokes are corny and nothing is taken seriously.
Quite an eclectic cast:
CANDACE CAMERON (TV's "Full House")
IAN BOHEN (Young Hercules in TV's "Hercules: The Legendary Journeys")
BOBBY PICKETT (original singer/songwriter of "Monster Mash" song)
JOHN KASSIR (voice of Crypt Keeper from HBO's "Tales from the Crypt")
SARAH DOUGLAS (Ursa in "Superman" and "Superman II")
ADAM SHANKMAN (director of "A Walk to Remember" and "Hairspray" 2007 version)
MINK STOLE (John Waters regular, "Pink Flamingos")
JIMMIE WALKER (TV's "Good Times")
ANTHONY CRIVELLO (Tony Award-winner, "Kiss of the Spider Woman: The Musical")
DERON McBEE (Motaro in "Mortal Kombat: Annihilation")
CARRIE ANN INABA (judge on TV's "Dancing with the Stars")
Film Editor STEPHEN MIRRIONE would win an Academy Award, for "Traffic", just five years later.
This movie was based on Pickett's stage musical "I'm Sorry the Bridge is Out, You'll Have to Spend the Night" (which is also the title of the first song in the movie). There is NO TITLE CARD in this version of the movie, which led me to believe that it was possibly re-titled. After searching on the internet, I discovered it was originally titled "FRANKENSTEIN SINGS!"
Songs include: "The Monster Mash", "I'm Sorry the Bridge is Out", "Play Your Hunch", "On a Night Like This", "Eternity Blues" and "Things a Mother Goes Through."
Review: The boy and girl are going to a party in honor of Halloween costumes in Romeo and Juliet , but along the way their car breaks down – right near the sinister mansion. Having decided to go there for help , they get to the party monsters , led by Dr. Frankenstein , who immediately decided to transplant his brain young monster. And immediately the girl claimed the right to Count Dracula – for obvious reasons. Meanwhile, there is a new guest – the mummy itself Elvis spirited manager who already has his eye on the body of the hero , that " The King of Rock ' n ' Roll" has found a second life . Nothing good comes out of this it will not be. A fun … !
Screenshots:
Download: