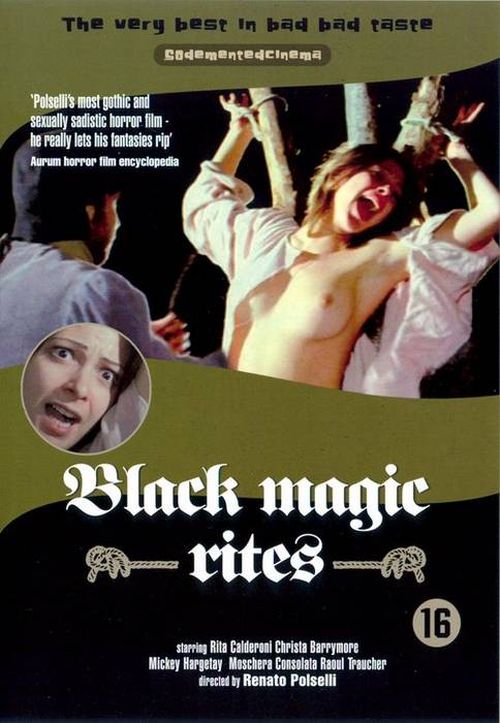 Year: 1973
Duration: 01:33:54
Directed by: Renato Polselli

Actors: Mickey Hargitay, Rita Calderoni, Raul Lovecchio and Christa Barrymore 
Language: Italian (English subs)

Country: Italy
Also known as: Riti, magie nere e segrete orge nel trecento…, Black Magic Rites & the Secret Orgies of the 14th Century, The Reincarnation of Isabel, The Ghastly Orgies of Count Dracula
Description: A bunch of bloodsuckers hold the body of a their queen in the estate basement. Vampires need innocent blood to revive her. A group of visitors appear and situations start up.
The movie "Black Magic Rites" is a wonderful demonstration of great vampire genre. By having a definitely low budget it still has a lot of blood, gore, nudity, sex and vamps. The camera work here is pretty nice. Itss amazing that actually this film doesn't have a cult status. The synopsis is quite simple: "A female known as Isabel was burnt when the religious court arrives at her small town. Obviously they are certainly not too far from the fact that she is really a witch. Her spouse and friends hide her dead body and place it in the cell of a castle. Turn to our days: The spouse and other were reincarnated and now they want to bring to life their queen."
The flick's awesome graphic style and gorgeous demonstration of sleaze can't be compared to a quite poor plot. Renato Polselli (Oscenita) stands near such great directors of exploitation cinema as Mario Bava or maybe even Jess Franco. The filming is magnificent, just as are the beautiful stars.
Screenshots:
Download:
Rites, Black Magic and Secret Orgies in the Fourteenth Century 1973