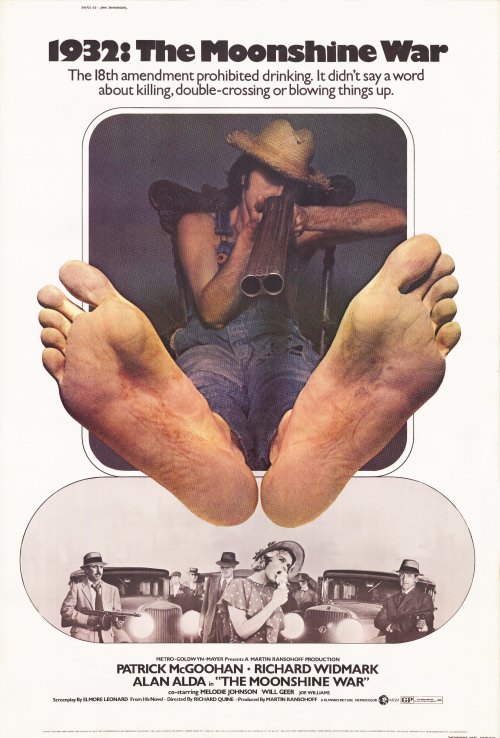 Year: 1970
Duration: 01:35:32
Directed by: Richard Quine
Actors:  Patrick McGoohan, Richard Widmark, Alan Alda
Language: English
Country: USA
Also known as: Whisky brutal, Guerra de Contrabandistas, Whiskykrigen, El infierno del Whisky, Viskisota, La guerre des bootleggers, Katharmata tou ypokosmou, O polemos ton lathremporon, Holdfényháború, I contrabbandieri degli anni ruggenti, A Guerra da Candonga, Whiskey-kriget
Description: 
Patrick McGoohan left us last week, and this is a personal tribute to my long time favourite neurotic from uk.
I found this movie a long time ago and to be honest, the quality is not the best but REALLY watchable. I guess the rip could originally come from a VHS, maybe itself from TV? The sound was out of synchro and full of hum and glitches, voices were muffled… I made such a huge little "3 hours work" on it (even if a few clicks remain, it's much better than the original). A few parts remain lightly out-of-sync but i'm afraid there's nothing i can do for this. Anyway, it's never in dramatical proportions, you can trust me. I also restored the poster specially for this upload.
About the movie itself? Have a look at the screenshots: no more description needed, right? Totally rare and recommended. and, of course, an upgrade is more than welcome! Enjoy, and send some smokes!
And IF YOU TAKE THE MOVIE LEAVE AT LEAST A COMMENT!!!
Screenshots:
Download: