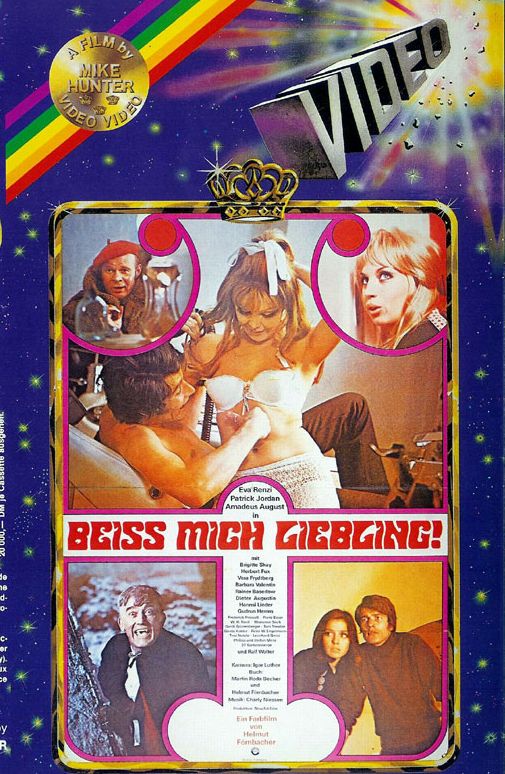 Year: 1970
Duration: 01:19:42
Directed by: Helmut Förnbacher
Actors: Eva Renzi, Patrick Jordan, Amadeus August
Language: English
Country: West Germany
Also known as: Beiß mich, Liebling, Love, Vampire Style, The Amorous Adventures of a Young Postman

Description: hen the usual postie breaks a leg everyone is trying to get a piece of the new recruit even the only gay in the village. He does his rounds on a ridiculous little yellow motorbike and following lots of innuendos he gets lucky with the local house fraus and the T&A sequences begin but it's very much a German sex comedy rather than a porno or Horror.  The Vampirism starts about 45 minutes in when a psychiatrist, related to Eduard, a 15th century vampire starts sprouting fangs & plans to kill the mailman as he's fed up with his sexual exploits in the town.
There is a terrible soundtrack with a song about the Mailman with lyrics such as "he's got something to give ya and he's so happy to give it to you .. He's a lovely giver ..!"
Some cartoon bats Stanley & Ollie are in the title & credit sequence & also pop up occasionally with some smart ass remarks like – "well that's our G rating gone !"
*WARNING* The quality is BAD at times as this is sourced from a ropey UK intervision Betamax tape from 1981, particularly the title sequence & the first 20 min or so .. It certainly picks up after this but with the occasional tracking problem.. the audio is OK throughout however.  A bad Pan & Scan job has been done and is noticeably cutting off too much at times such as the end credit names.
Dubbed with English Language. This is the 85min version .. There are Rumours of a 102 min cut in existence with additional Hardcore sequences but this remains elusive
Directed by Helmut Förnbacher
Starring Eva Renzi (The Bird with the Crystal Plumage), Patrick Jordan (Assault), Herbert Fux (Mark of the Devil,Brigitte Skay (A Bay of Blood)

Screenshots
Download