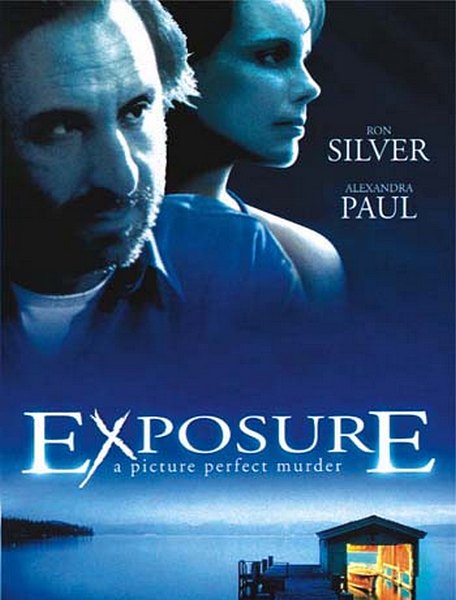 Year: 2001

Duration: 01:28:06
Directed by: David Blyth
Actors:  Ron Silver, Alexandra Paul, Susan Pari
Language: English | French

Country: USA | Germany | New Zealand

Also known as: Naked Terror, Der Tod steht Modell, Exposure – Gefährliche Enthüllung, Obsesión criminal, Kuoleman kilpajuoksu, Sangue in copertina
Description of Exposure: Gary Whitford ( former military photojournalist ) now works as a photographer in the fashion magazines.
Once at the behest of the strange case of Gary meets a young beautiful girl Elaine. Knowing who he is by profession, a young lady asks him to do a test photo shoot . Gary agrees , and then shows the images ready to his boss .
As a result , sensual photo Elaine become a sensation and graced the covers of the most popular men's magazines. Girl predict a bright future successful model . But …
Soon someone brutally cracked down on Elaine , leaving on the wall next to her bloody corpse inscription: " First of sinful trinity ."
So , apparently , this is just the beginning. There will be other dead.
The cause is taken by the police.
And while the cops trying unsuccessfully to calculate a criminal armed with a knife unknown murderer , dressed in a black cloak with a hood, methodically continues its hunt for targeted victims , including listed and photographer Whitford .
Who is this mysterious killer with inclinations maniac? And the poor old Gary annoy him ?
Cinema of New Zealand ( the country with a population of just something about four and a half million people ) is very, very far from the leading positions . And although there have started to shoot movies back in the twenties of the last century , however , significantly develop local industry began only at the end of the seventies. Perhaps that is why well-known all over the planet until NZ directors can be easily counted on the fingers of one hand. And David Blyth just among those rare celebrities.
He was born in 1956 in New Zealand 's largest city Auckland .
David himself admits , a crucial role in his life played a tape " discreet charm of the bourgeoisie" Spanish surrealist Luis Buñuel . Blyth saw her sixteen years on the big screen , and leaving after the session of the Auckland theater Lido , knew exactly what the profession chooses .
However, in the mid-seventies of the twentieth century specialized film schools in New Zealand simply did not exist yet . And because David sent his foot on the Faculty of Arts at the University of Auckland. And in his spare time from studying intensively studied cinematic self-education , gaining experience by viewing the great variety of different movies …
Turning point in the career of the young filmmakers , bachelor of arts , a graduate of the University of Auckland Blyth David came when he was twenty- eight years . Already having three directors in the asset creation, in 1984 David wrote and directed him to his fourth picture – the first ( !) In the history of New Zealand cinema horror film . Tape called " Riot Death" (aka "Death warmed up "). And soon, she won the Grand Prix at the Paris International Film Festival science fiction films – one of the leading genre film festivals in the world who owe their fame masters such as Steven Spielberg , Joe Dante and Sam Raimi . Chaired the jury Alejandro Jodorowsky ( cult director with Chilean and French citizenship , Jewish blood and Russian roots ) even publicly voiced flattering statement , noting the unusual creative vision of David Blyth and his terrific sense of atmosphere.
Film product " Riot Death" purchased for a wide rolled over twenty countries . For David same picture opened the door to Hollywood and became the hallmark and let it on the " Dream Factory ."
Overseas Blyth spent about fifteen years. During these years he labored in two family dramas (" Power Rangers " and " White Fang ") , took a couple of dramas and a few horror movies , including " Hot American blood ," " House 3: Horror Show ," " Ruthless hitchhiker " " My grandfather was a vampire " … in 1993, David's tape – Granddaddy bloodsucker (" My grandfather was a vampire ") was nominated for the main prize of the International Festival of fantasy genre " Fantasporto " in the category " best Feature ." But at the finish brainchild Blyth beat compatriot – Peter Jackson with his bloody bacchanalia " braindead " …
Latest directorial same act on American soil for David turned detective thriller "Flash" . Putting this picture, Blyth felt that it was time to go home.
And since the beginning of the two thousandth 's David again builds up at home, where over the past decade , due to its scenic and directorial efforts came to light four documentaries and two new NZ horror film – "Wound " and "Ghost Bride" …
Detective thriller "Flash" was conceived as a low-budget cinematographic intended for release only on video. The plot is composed Australian Ian Kohlan (author of scripts for Australian zhutiki " Stones of Death" and "House of Fear" ) . And David Blyth invitation to the post of director guaranteed quality project implementation. As a result , everything was very good. Simply, but tastefully … The film is made without any pretensions to anything. But it is intriguing, has all the components of good detective thriller genre has proper atmosphere and able to keep on their toes. Plus , beautiful, exciting music from composer Bruce Lynch and quite convincing performance main actors : Ron Silver ( Broker crazy killer in the painting " Blue Steel" Kathryn Bigelow ) and Alexandra Paul ( one of Redemptrix Malibu ) .
Screenshots:
Download: