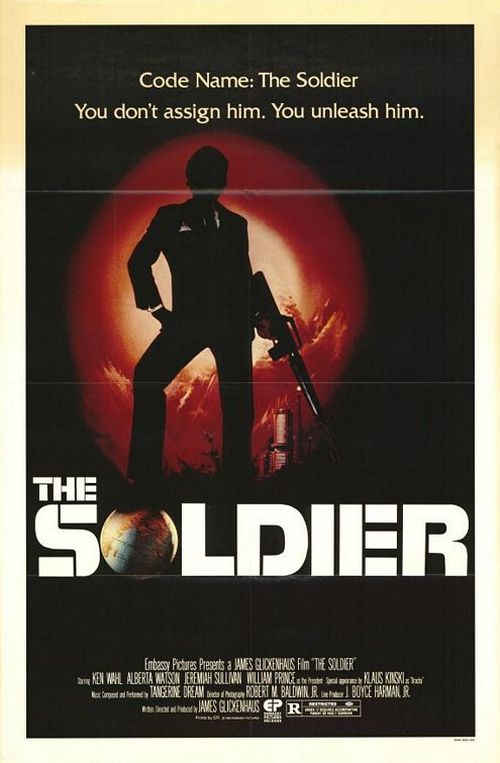 Year: 1982
Duration: 1:23:57
Directed by: James Glickenhaus
Actors: Ken Wahl, Alberta Watson, Jeremiah Sullivan
Language: English
Country: USA
Also known as: Codename: The Soldier, O Ultimato, Ultimátum, Le soldat, Executor, Nombre código: Águila, Der Söldner.
Description:
The film Soldier revolves around nuclear terrorism and an attempt to start a war between Israel and the United States in a Jonathan Pollard style scandal. All of this is plotted by an evil KGB tyrant played by Klaus Kinski, who can only sneer at Ken Wahl and say: "Soldier, I am sick of your Shit!" Yes, it was the height of the Cold War, and we were training to fight the Soviet Menace, the Evil Empire, the Reds.
But regardless of politics, there's a lot to love about this movie. Take the opening scene in Philadelphia, when the limo (targeted by the terrorists) turns out to be bait to draw the bad guys into the open, so Ken Wahl and his team can hose them with their weapons… and let's not forget the famous ski chase sequence in which Ken Wahl (or is that his stunt man?) manages to do a full 360 helicopter several times while firing a MAC-10 machine pistol at the pursuing KGB thugs. The scene is very warren miller-esque… well, except for the military small arms used and the bodies falling on civilians…
But let's face it: the dialogue is bad, and Ken Wahl has two acting modes – steely resolve and steely anger. Even so, it's a fun little movie in which the good guys win, the bad guys lose and a Porche gets destroyed jumping the Berlin Wall! It's James Bond with naked breasts and more firepower. And, of course, the "Politically Correct" crowd hates it.
THE SOLDIER, like RED DAWN and THE FINAL OPTION, is definitely a product of the Cold War. We (the US and NATO) are good: We stand for freedom, democracy, and peace. They (the Soviets and their minions) stood for oppression, conquest, and war. Of course, we're going to win in these films! Did they ever make a movie about WW2 in which the Nazis won? It seems that most people will try to quickly forget the past, even if that past is less that 20 years ago. Just enjoy films like these for what they are: movies from an earlier era.
Screenshots
Download