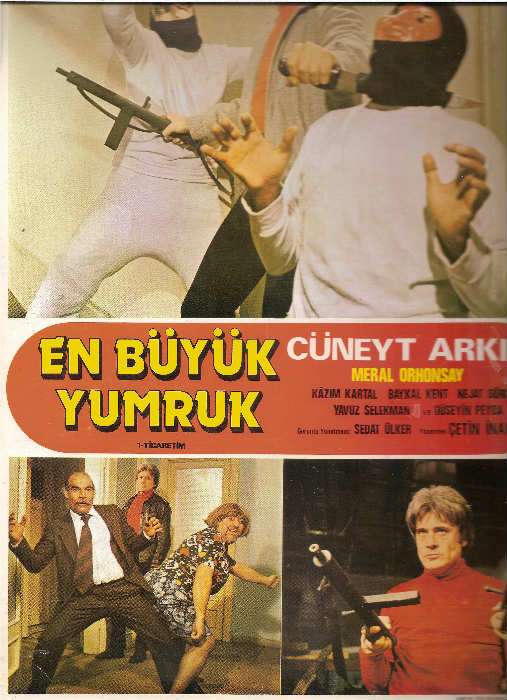 Year: 1983
Duration: 1:16:26
Directed by: Çetin Inanç
Actors: Cüneyt Arkin, Meral Orhonsay, Kazim Kartal 
Language: Turkish
Country: Turkey
Also known as: Zombi 66: The Mega Death Punch, The Biggest Punch
Description:

The previous announce described this one as "wildest, most completely "don't give a shit" action films you'll ever see". When you get a load of this you will soon see why.
The print is so beautifully scratched and crackly. The editing is so slapdash and erratic it has scenes from James Bond films mixed in with stock footage and sometimes clips are used over and over.  Car chase scenes where the car goes past the same building over and over chased by madmen in balaclavas with no motivation behind it. The same men then go into a crowded  shop and completely obliterate the crowded place with Uzi's because the owner has not paid protection money.
This film really has it all. Some of the worst fight scenes I have ever witnessed. His female side-kick is dressed like something out of an Italo-disco sideshow exhibit and seems so out of shape yet still beats ups ten thugs while barely able to lift her legs above her knees. She is quite cute and later fights over Cuneyt against an ugly blonde bull- dyke looking woman in a bikini.
In another fight scene he beats up a room of ten men to the unashamedly ripped-off soundtrack to James Bond by doing backflips. One of the criminals is set up by a hairy man in drag with a borderline beard covered with a veil.
After chasing a bunch of unknown bikers while the weather changes from overcast to glaring hot to sunset within 10 seconds he drives from an industrial backdrop to a forest just by turning the wheel. A car carrying a crate of oranges smashes into a tree and his female side-kick flies backwards holding the camera after being hit by a bike.
In the final scene he has a secret weapon that has to be seen to be believed. Cut within an erratic mix of fireworks display stock footage he blows up an entire village of men in balaklavas to high heaven; especially cool as if you remember we were in an industrial area so this village has appeared around them magically.
Predicably, the films ends with the defeat of his arch-enemies. A fat slimy blob and his Turkish bath washing henchman who has braces on his teeth.
If you're drunk or really stoned this one is recommended. There is no need for this pretentious crap like plots and screenplay or acting.  What we have here is a pure unadulterated cinematic experience at its most brutalist with an amazing disco soundtrack.The print looks like a genuine grindhouse rarity covered with scratches and crackly audio.
Screenshots
Download
 En büyük yumruk 1983 | Free Download