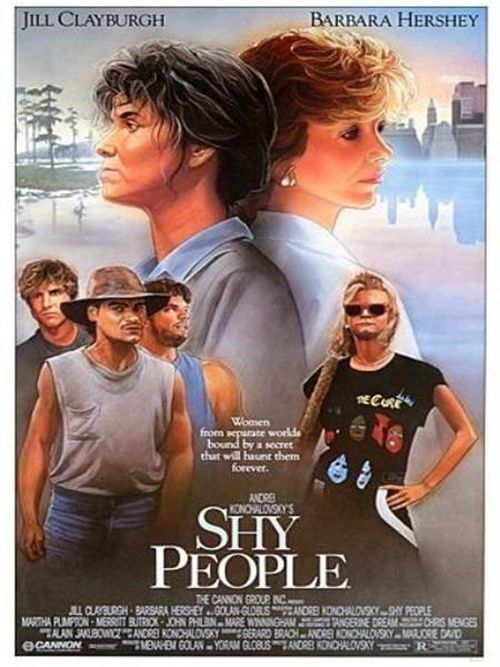 Year: 1987
Duration: 01:55:09
Directed by:  Andrey Konchalovskiy
Actors: Jill Clayburgh, Barbara Hershey, Martha Plimpton
Language: English
Country: USA
Also known as: Aru Hitobito, Bataklik insanlari, Cisi ludzie, Félénk emberek, Gente Diferente, Gente Estranha, Gente como nosotros, I diffidenti, Konfrontationen, La familia del pantano, Le bayou, O valtos, Verisukulaiset, Vidas distantes
Description: This is probably the best (but only in the American period of creativity) tape Andrei Konchalovsky to be called differently – "Shy people," even though it would have cost without undue constraint to transfer much easier – "Shy people." Incidentally, the idea of ​​the film dramatic story of one family living somewhere in the wilds of the taiga (as happened in the end, that in the vast swamps of Louisiana), there was Konchalovsky decade earlier, back in Russia, on the set of "Siberiade." In general, the heroine of Barbara Hershey, proud and indomitable Ruth Sullivan – like American Asya Klyachin ("Asya's Happiness, which she loved but did not marry"), only 20 years later and in a totally different environment.
Ruth was left with four young sons in her arms after the disappearance of her husband somewhere in the swamps of Louisiana, and she brought them to the rigor, under the dictates of their own away from the civilized world. But the human drama of Ruth is still in the absence of cardiac and confidential contact with children. Patriarchal (or more precisely – the matriarchal) power to endure all the women in his lifetime, which is already 12 years old married and moved a lot of humiliation from the rough husband beat her and grabbed at life like drowning in a quagmire, knowing that only depends on her own fate sons , turned out to be for them and the dominating wrenching experience. And this is no better than an irresponsible, indifferent education of his daughter Grace emancipated and more civilized cousin Ruth Sullivan – Diane Sullivan, a famous journalist from New York City. Extremes meet. Animal maternal passion devoid of genuine feeling, like a cold, improper performance of parental duty.
Actress Barbara Hershey (Paris Trout and World Apart) is not afraid to appear in the film "Shy people" disfigured, with rotten teeth, tired and irritable, "the woman from the provinces" with a distinctive accent kadzhenskim resident wetlands of Louisiana. But above all, it has created an impressive image of the person who is able to survive in almost any environment and really sacrifices himself for the sake of loved ones. So the singer was deservedly awarded the prize for this role at the Cannes Film Festival.
Screenshots:
Download: