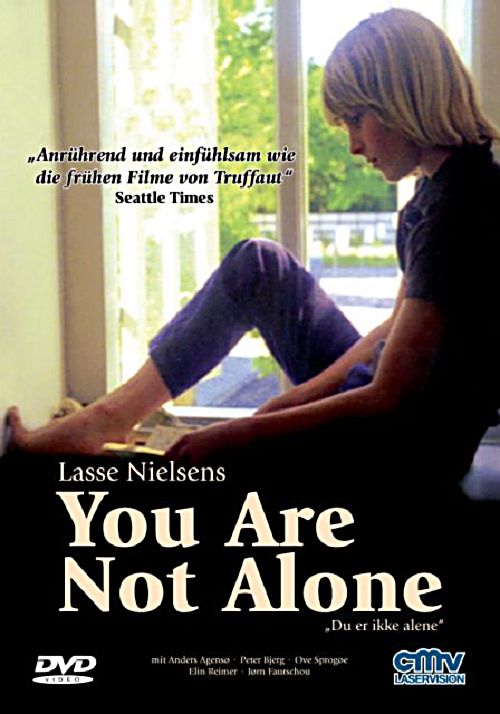 Year: 1978
Duration: 01:31:35
Directed by:  Ernst Johansen, Lasse Nielsen
Actors:  Anders Agensø, Peter Bjerg, Ove Sprogøe
Language: Danish (English subs)

Country: Denmark
Also known as: Du er ikke alene, Du står inte ensam, Nem vagy egyedül, You Are Not Alone
Description: In the private boarding school raided inspection: how children learn, where they spend their free time? Fight with local children, picnics in the forest, protest against the exclusion of his friend, fall in love. And not only in girls.
Review: Very cute, is sufficiently candid, innocent film for the amateur. About ordinary teenagers with their common problems. In general, nothing shocking, surprising and even more pornographic in the film – if not the subject of homosexuality, it would be just a quiet film about teenagers from the private school. That talk, fight, protect their friends, teachers, and parents are opposed.
Boys, it seems, Bo and Kim – not just friends, but that does not make them out of touch with society and fixated on themselves – that's what I love about this movie. Usually young gays oppose society, but here they are the same as the others. Is that Kim's father – the director of the school, and because of this, sometimes there are problems.
The end, of course, is predictable, but what else can make teenagers? The question is – what happened after the boys presented video.
Very pleasant, unobtrusive music, beautiful scenery, the actors are good, considering their age. Nice atmosphere, and I wanted to be on the site of these guys, swim in the lake, have a picnic … In general, it is recommended for sensitive natures, normally related to homosexuality and the lack of a clear plot, the separation between good and evil and a clear ending.
Unconventional (in all senses) a film about love between two teenage boys in a boarding school as a result was one of the most daring cinema art of his time. The thing is, that the demonstration, in fact, innocent (but obviously more than friendly) relationship boys hiding painfully simple lyrical love story. It is very similar to many classic cinematographic novel, with the only difference being that in this case, when interchanged terms writers somehow managed to change the final amount. Or give the appearance that it has changed.
Of course, if the movie tells the story of love between two people of opposite-sex adults, not the fact that it would have produced such an effect, which has produced, with clearly visible, that the authors described the more unconventional love because of the relevance of the topic and the interest in it in wider circles, and not just for the sake of shocking.
Creators tape made the right move, obviously on purpose to make a film so honest, it does not cross the line of decency and not distracting from the main theme and continuing to lead his audience through the story. If we talk about the last – movie look interesting, not least thanks to the simplicity of the story and the naive tone of voice with which its authors describe – in the end, the film tells the story of another young guys, and they love the other can not be.
Screenshots:
Download: