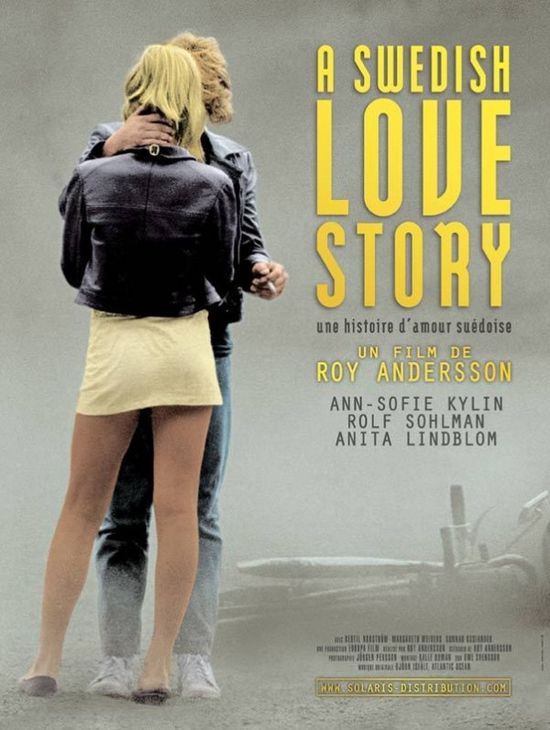 Year: 1970
Duration: 01:54:18
Directed by: Roy Andersson
Actors: Ann-Sofie Kylin, Rolf Sohlman, Anita Lindblom, Bertil Norström
Language: Swedish
Country: Sweden
Also known as: En kärlekshistoria, Mia erotiki istoria, Historia milosna, Eine schwedische Liebesgeschichte
Description: A romantic drama about the first love between two lofty idealistic teenagers and conflict with the adult world, reveling in the daily problems and lost faith in life. He works as an assistant mechanic at the garage and rides a moped. She does not do anything, just lipstick and stuff. They smoke and are afraid to talk to each other. But after going through scuffle, the tears and the first hangover, they will reach the end of the film together.
Review: This film is a positive and enjoyable. The main characters of the film are 14-year-olds teens, on the background of the parents are still so small. But by themselves these adults, are constantly smoking, adults tend to be faster: girl paints lips and eyes, talk about first kisses, and probably can not wait for her first true love, and chase the boys on mopeds, look at the girls' legs. Everything is so cute and childish, but at the same time on the brink of adulthood. The relationship between the characters are tied so fondly. And parents are no longer needed, they bravely try alcohol and joint overnight. Nostalgic memories include when, due to a misunderstanding lovers avoid each other, and at the same time do not represent life without a loved one. But all ends well for them. And its adult life in which they often behave like children.
Hysteria and the love side by side, are in this movie. And indeed, there is no need of words. Here, everyone understands: as it is and how to be. But since you want to watch a little longer on this bike, the young curls and kisses. As long as something we have left.
Screenshots:
Download: