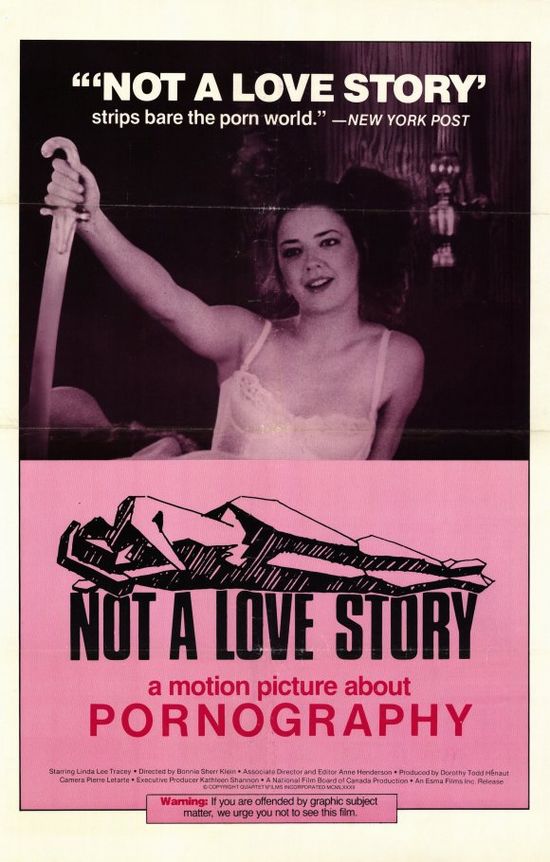 Year: 1981
Duration: 01:09:23
Directed by: Bonnie Sherr Klein
Actors: Linda Lee Tracey, Bonnie Sherr Klein, Suze Randall
Language: English
Country: Canada
Also known as: C'est surtout pas de l'amour – Un film sur la pornographie,Not a Love Story,Tuote: nainen – Elokuva pornografiasta
Description: An anti-classic of outdated second wave pseudo-feminism and the very 80s anti-pornography movement. This (shamefully) NFB funded documentary poses an 'investigation' of modern pornography but is so obviously slanted that it becomes either enraging or amusing, depending on your temperament. The filmmaker's try their damnest to make sure that anyone who speaks in any way in favour of pornography is made to look sleazy or ridiculous, but even so there are several scenes where the narrative slips out of their control, during conversations with feminist Kate Millet, porn actor Marc Stevens or a live-sex worker.
Ironically this 'documentary' is now most valued by fans of exploitation and 70s smut, for the footage of the time and 42nd street that it inadvertently documents between the hysterical rhetoric and fear-mongering. It also has many clips from the era's S&M-oriented roughie loops, which the film purposefully glosses as the majority of pornography. The most sublimely ridiculous scenes are by the long-forgotten 'Poet/Writer' Robin Morgan, who poses self-righteously with her son and dweebish husband while spouting some of the most nonsensical 'facts' one is likely to ever hear.
Review: So, this is a National Film Board of Canada release from '81 all about how pornography is a tool of the man to keep the woman down. It's been a while since I watched it because I'm a big fan of pornography, and I consider myself a feminist, but the repetitive insistence that this makes me a horrible person and a misogynist gets hard to ignore after an hour of it. But here's what disturbed me the most:
Usage of pornography, quite over-abundantly, seemingly as if they're using the very shock and titilation notion of it that they're rallying against to sell their politics.
Allowing a stripper's honest beliefs in her empowerment through her job to be aired, and then by the end of the film having her break down crying as she has through the filmmaker's guidance come to realise what a shit of a person she is.
That's pretty much all I can remember aside from general leaps of logic, poor usage of feminism (especially second-wave, shudder), and very passionate Canadian's from the early eighties trying to free their down-trodden sisters all around them. Arrogant bastards.
But it's certainly an interesting watch from a historical point of view for all the sleaze, as well as the dated ideology.
Also, it's a request, so y'know, there's that.
As you'll see though, the quality isn't that great, it's a VHS rip, and maybe a third-ish generation one. Very watchable though, I gotta say, and quite rare, unless your world happens to encompass a medium-to-large size Canadian university library. And a DVD version of this does not exist anywhere in the world according to my google searching.
Screenshots:
Download: