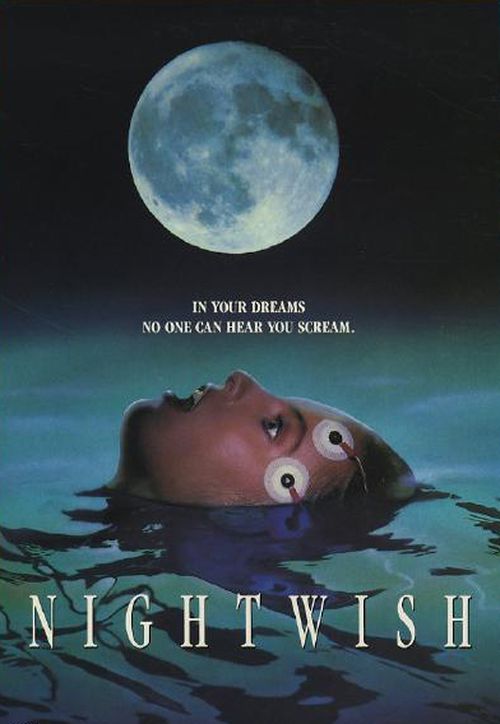 Year: 1990
Duration: 01:28:29
Directed by: Bruce R Cook
Actors: Brian Thompson, Jack Starrett, Elizabeth Kaitan
Language: English
Country: USA
Also known as: Nightwish – Out of Control
Description: Four students under the guidance of an old professor (Jack Starrett – Born Losers) studying dreams. For this, their body immersed in a liquid so that the front part of the head remains on the surface, and sensors connected to them. They are coming up with stories of his dreams (nightmares), and try to control them, and everything that happens in a dream – is projected on the screen, overseen by their mentor. After working in the lab for further research the whole company moves into an abandoned wooden house, located in a remote rural area, which also turns out to be "possessed by the devil." From now beginning to happen all sorts of hell and the gap between the real world and the dream becomes almost invisible.
The film Nightwish is a hodgepodge of different sub-genres of horror. Here and explore themes of nightmares as in "the outlines of sleep" and paranormalschina in the spirit of "Poltergeist" (cool "worm" glowing green), a bit of a zombie movie (a small scene of cannibalism and wiggling severed hand), as well as films about aliens (mutated human bodies covered with slime). Given the general attitude of mind-bending paintings come across as silly and weird moments (well, where do without it in the low-budget films, then?), But in the end, and it is very pleased – was an interesting and unexpected outcome.
This results in a very good fantastic horror early 90s which in fact, is a sort of symbiosis almost everything that was in the 80's horror movies. Is that from the slasher he did not take anything, because no massacre and the masked maniac is not present. But for the rest of the fans to viewing recommended. The film is unlikely anyone will be able to catch much, but at least it will give another good reason to ponastalgirovat of those glorious and irrevocably past times when it would obviously cheap and secondary film manages to be quite high quality and in some ways even more than the original.
Screenshots:
Download: