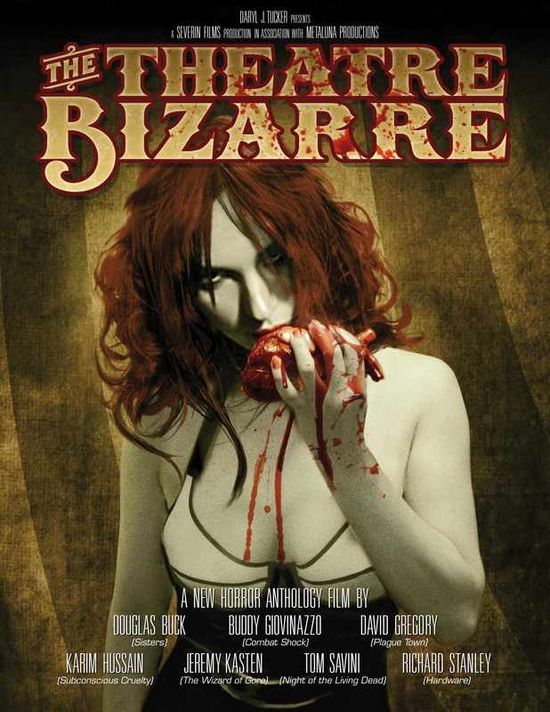 Year: 2011
Duration: 01:53:44
Directed by: Douglas Buck, Buddy Giovinazzo, David Gregory, Karim Hussain, Jeremy Kasten, Tom Savini, Richard Stanley
Actors: Udo Kier, Virginia Newcomb, Amanda Marquardt
Language: English /French
Country: USA / Canada / France
Also known as: To theatro tou tromou
Description: Very slightly before it's safe date as safed by Capnredbeard via irc (from it's 4/24/12 DVD release) I bring you The Theatre Bizarre. This is such a fun B-horror that I was exposed to quite a bit in the production, because a friend of mine had a small role and tended to linger around the set the entire time. So I heard a lot about it, seen a lot of pictures, and was very excited to finally see the DVD. It didn't disappoint.
Very similar to Creepshow, in that it takes a bunch of small stories framed into one large movie. "Mother of Toads", "I Love You", "Wet Dreams", "The Accident", "Vision Stains" and "Sweets" are the sub-movies and range from great to terrible.
"The owner of this Theater of the absurd, dreadful-looking puppet, introduce six bizarre stories, one more terrifying than the next. The horrors of the real world and imagination overwhelm consciousness Enola, and in the midst of view heroine and realizes that it starts to happen something very strange, irreversible and terrifying…"
Review: «The Theatre Bizarre» – quite cruel and Frank horror anthology, which produces the impression of an integral and masterly made a picture that has a very ambiguous ending. In each story, a subordinate of different styles, excellent conveyed the atmosphere of the nightmare and anxious suspense. Skillfully manipulating the feelings of the viewers and the soundtrack to every novel written by different composers, but particularly want to highlight Simon Bossuwel, created in a novel by Richard Stanley spooky and depressive motive.
I recommend this almanac all fans of horror movies and cinema and I think the picture does not disappoint.
Screenshots:
Download: