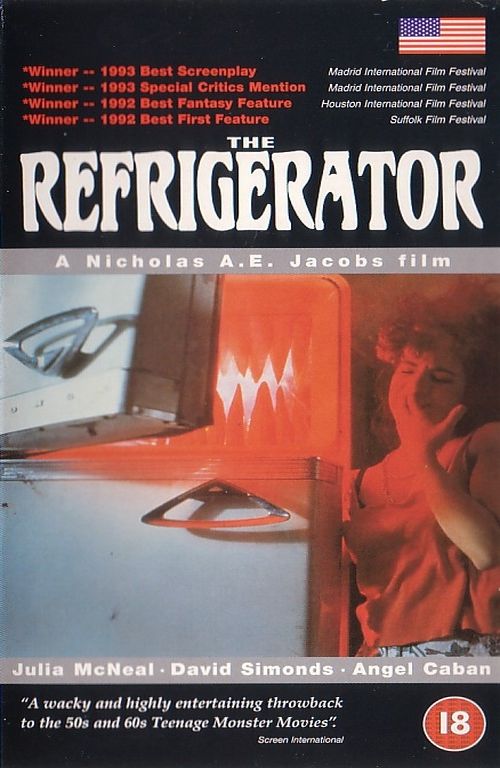 Year: 1991
Duration: 1:28:28
Directed by: Nicholas Jacobs
Actors: Julia McNeal, Dave Simonds, Phyllis Sanz 
Language: English
Country: USA
Also known as: A Geladeira Diabólica, Der Kühlschrank, Der Kühlschrank – eiskalt, böse und gemein

Description: The couple enters into a new apartment, which goes to them for a very reasonable cost, which seems to them suspicious. But what to think when there is a roof over your head, and they agree. Go to an empty room attached an old, old refrigerator with a very dark past — all former tenants became his food, as it is the door to hell.
"Refrigerator" is a Comedy horror film shot in the spirit of American operational cinema of the 70s. as the villain will appear gluttonous fridge, which is a kind of portal to hell! But no monsters it out will not be enough and the fridge and a couple of other bloodthirsty appliances. In addition to an outstanding villain, plus the picture is her style. The Director managed to convey the atmosphere of the American horror film 70-ies of the last century. One of the essential components is the black humor. In this film, unlike the modern representatives of this genre, the number of black humor sparingly, and it harmoniously into the General atmosphere of this picture. Makes itself felt modest budget, but a negative role in the perception of the picture is not important.
This film is strictly Amateur! For someone it will be a real boon for someone interesting film for the evening, for other nonsense. The ax.
Screenshots
Download