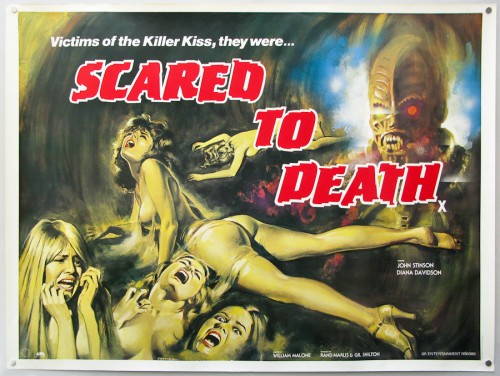 Year: 1980
Duration: 01:32:20
Directed by: William Malone
Actors: John Stinson, Diana Davidson, Jonathan David Moses
Language: English
Country: USA
Also known as: The Aberdeen Experiment,Scared to Death: Syngenor,Entsetzen – Dem Grauen auf der Spur
Description: 
So, what's it about? Well, about a weird creature who has shadow like Alien,
actual head looks like Donnies's rabbit and walks like ostrich. Too bad that
it doesn't walk much, it just wait in the sewers or on the street and then squeezes
victim's head. Rarely you will get to see anything, actual murders are mostly
visualized by drop of blood on the pillow, wall or something.
But in the end it is not so bad, actors are ok to watch, as is this film. There
are some fine shots when I looked in the corner of the screen if there is
some figure or not,that's how few dark shots work, you are uncertain what
you are seeing. Problem is that I think that the filmmaker wasn't aware of
such impact, so he doesn't capitalize it enough.
Shame.
The film " Scared to Death" is a masterpiece in the genre of horror. However, the movie itself is pretty decent. Though after watching the film scared to death I could not, but nevertheless , I still do not regret that I watched it .
story
In the underground tunnels of the metropolis, people began to disappear . The police find only what is left of them . Unknown killer has decided to catch up on all the fears of civilians. Investigate these crimes , takes an ex-cop and a young girl who went missing relative. Traces kills, bring them into the underground tunnels, and it soon became clear that here we have the secret government experiments in the field of genetics.
character
Character in this film is presented Singenor . You probably watched the movie " Singenor " 1990 , which was filmed by George Elandzhanom . So, in that there is the same person . Monstrous creature possesses superhuman strength and created through genetic engineering.
atmosphere
The film is not to say that it is very stressful, but not boring. The atmosphere and suspense in this film at the secondary level . Murder there , though that's almost no blood . The character of the show is not too often. But then you see the film , so it becomes more interesting .
director's work
Director's work turned out more or less decent. First of all I want to say about the monster suit , which turned out great . It is interesting to develop the film , which takes place in the underground communications .
conclusion
That's what I would like to be in the film:
1. More tense atmosphere and high suspense .
2 . More violence , blood and outright murder.
3 . More frequent presence of the monster , and it is desirable to be shown in full length .
These are the disadvantages from my point of view, there are in this film. If the movie was that I listed above , it may be given the highest rating . But since it is not, then the highest rating I unfortunately do not give . But once again I remind you that I do not regret that watched this film.
I recommend this movie to see in only two cases:
1. If you're a fan of horror monsters.
2 . If you liked the movie " Singenor ."
On this from me. I hope you enjoy viewing.
Screenshots:
Download: