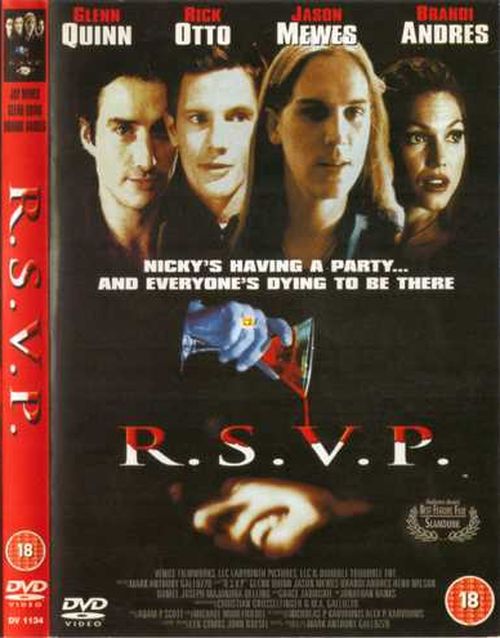 Year: 2002
Duration: 1:40:04
Directed by: Mark Anthony Galluzzo
Actors: James M. Churchman, Sharon Bruneau, Scott Workman
Language: English
Country: USA
Also known as: Names Will Never Hurt You, Sticks & Stones, To party tou tromou, RSVP 2002

Description: I remember having a fairly good time while watching the flick R.S.V.P. It's pretty cheesy and fun, and the location is pretty nice to look at. Jason Mewes plays, well, himself, pretty much. But that's always fun too! To a student who studies serial killers, comes up an idea that he can arrange the largest mass murder and not be caught up in this. Inviting friends to a party, he kills them one by one.
Review: I love to be on the brink. Where is unstable and uncertain, but there is often something potentially attractive. As for this choice of movies – I'm not that smart to constantly watch the classics, not so uncommon that they should get stuck in the author's cinema and not so like modern culture to settle Movies. I like the balance between bad and interesting. I am the one who is looking for grain and pearl in a pile of rubbish, it does not always converge in the assessment findings with others. Of course, it turns out that I look pretty much that is not a pleasure, it is ambiguous to the very end, as I do not want either to remember or write. But I think this film is a godsend.
Maybe if someone watched "Rope" Hitchcock, which is referred to in the text, it will not be of interest. Maybe those who outgrown and forgotten youth and student days, here, too, especially to do nothing. But if you wanted to see something funny, clever so easy and exciting at once, it's a choice.
I'm a little familiar with the works of the author of this creation, then he and his friends are doing is something like trying to shoot a movie on like normal American subjects, but with a small plot variations that have to do after the fact what is happening on the screen more attractive. So, to be honest, not really. Whereas «RSVP» rare success, the case that everything was not better or worse than usual. That the level of a movie when you can watch it for its own sake, and not something to "check out".
Besides, I had the bonus that it was almost the first time I met with the theme of "perfect murder" and even before I knew 12tyu negrityatami. But after meeting with the nicest and the Weird Jay, who always seems to play only himself. Well agree with the previous writer is more comedy, so that viewers are tired of the bad American horror stories have to be bored somewhere else.
Another Review of RSVP 2002 Names Will Never Hurt You A party in a huge house. Fun till you drop. Booze, drugs, funny face. Send for pleasure, ran into a crazy maniac. Though horror film genre is marked, but there is hardly terrible to find. Sheer fun. Fear is usually injected through the viewer Stach victims, and no one in this film until recently did not know what was happening. The scenes of violence are not very colorful. So it is unlikely to be viewed by stocking pillow, where you'll hide your eyes.
In general, the film keeps the viewer's attention is fun, it is not really the stories that largely revolve around the theme " art of killing. Serial killers, maniacs. Raises a question of Dostoevsky's 'Crime and Punishment'. Some thought was also, however, interesting to listen to. In short do not just CIP slaughter and massacre bordered by a layer of information. Even say that the film is for once quite good. Like, taking into account the genre. Only the ending is pumped up, more dialogue at the last minute, which seemed to me not realistic. On such people are unlikely to say after all of the experience.
In general, I decided to see the film only when he saw in the credits of my very favorite Jason Mewes. I thought to look at it, at last, as distinct from his eternal well-played by horny ukurka Jay (the one that a friend Silent Bob)! But not here-that was. The name of his character, of course, changed, but it's still the same Jay – a modern alchemist! (Peeking film will understand the phrase).
Screenshots:
Download: