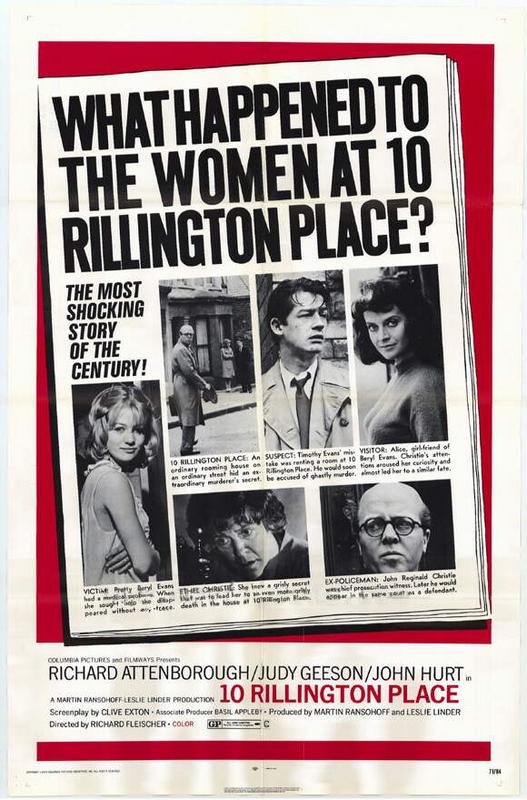 Year: 1971
Duration: 01:46:22
Directed by: Richard Fleischer
Actors: Richard Attenborough, Judy Geeson, John Hurt, Pat Heywood and Isobel Black
Language: English
Country: UK
Also known as: Dom przy ulicy Rilington 10, El estrangulador de Rillington Place, L'assassino di Rillington Place n. 10, L'étrangleur de Rillington Place, The Strangler of Rillington Place, Trg Rillington 10, Violador de Rillington
Description: London. 1944. At night, during the bombing, the woman enters the dilapidated house. There she meets John Christie, fifty-year-old man-at-arms. He wants to help women to get rid of the cough, wearing an oxygen mask. But she suddenly starts to choke. Then Christy rushes to the woman, raping and strangling. After that, he serevet the corpse in the garden, where there are several other phone
In 1949, Christy returns to the accountant. He rents the second floor of his house a young married couple with a child, Timothy and beryl Evans…
Review: The fact that "Rillington place" is one of the most powerful films about the maniacs that ever came out. The merit here is Fleisher is enormous.
First of all, the Director is correctly picked the pace of narration. He did not giallo, in which the murderer is unknown. Almost from the outset, the Director reveals to us all and we learn the name of the murderer. Well, then, throughout the film we will continue to monitor developments and to expect to catch a maniac.
It is right that Richard Fleisher into the material so that the maniac does not occur with positive emotions. Some Directors make a bet to show positive qualities maniacs. For example, this was Chaplin's "Monsieur Verde" and in films about the Lecturer.
Fleisher this question is much more clear – killer, is a killer, and no doubt of his guilt there. Largely, it has to do with drafting the title role.
Richard Attenborough incredible. In his character there is nothing human, as was probably his real prototype. It is important that we are not forced to understand the secret rooms of his soul, but simply record the facts – his quirky mind, dangerous things and outer softness and pliability. All combine to make the character played Attenborough is one of the most sinister characters in film history.
Screenshots:
Download: