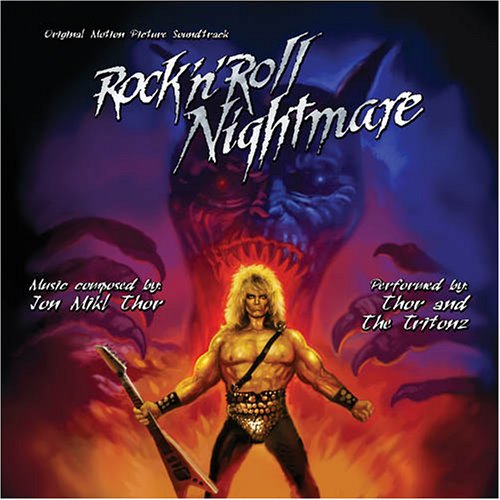 Year: 1987
Duration: 01:23:15
Directed by: John Fasano
Actors: Jon Mikl Thor, Jillian Peri, Frank Dietz
Language: English
Country: Canada

Also known as: Entrada para o Inferno, Al filo del infierno, The Edge of Hell, Arch Angel, The Face of Hell
Description: This movie blows, in all the best ways possible, while still remaining highly entertaining. This isn't one of those "Let's make make a cheese horror film, that's so bad it insults your intelligence and bores the fuck outta ya, because it's cool to make bad films, films."  NO. The people who made this were dead serious, and that's why it works. This movie will blow your mind. You don't watch Rock 'n' Roll Nightmare, Rock 'n' Roll Nightmare watches you. Filmed by director of Black Roses movie.

Review: Once, in the cold winter is a young but very promising underground band for the simple name «TRITONZ», decided to record his next album. Moreover, the record so that it instantly became multi-plan, multu-drive and generally all such a multi-pulti they was.
That is why our ease musicians, armed with guitars, drum sticks, Coca-Cola (rockers are not drunk!), and also – a minimum number of girls for repairing socks, cooking and sexual orgies at night, decided to visit not out there somewhere in new York Yes London, on any BMG, EMI and Union-records, and in a quiet, impenetrable wilderness in the middle of rotten snow Canada.
Selecting as the ideal location to record a crooked old farm, where, according to the inspector, «was Recorded himself Elton John and this… as it is… Ozzy Osbourne», musicians treacherously entered this pitiful structure and immediately started rehearsals, orgies and other joys of life, accessible only to a group of «King and the clown» and a good half of all canadian farmers.
Ahead, of course, our students will insurmountable difficulties, trouble household and personal nature, a creative crisis debts in the communal, participation in pioneer matinees, but the worst is the EVIL that settled in the house and is not going to move out from there. Being very arrogant and wicked face, like: «I'm not going to leave, this is my apartment. And furniture, to ask – don't touch».
And, as you know, the EVIL will go ahead, shoot from the corner, and crawl pig and attack from the flanks, and then, when the enemy is to be, as they say, at the gates, and to retreat when already will have nowhere, because «Moscow is Behind us», or rather The old canadian farm», then the musicians will give the metal, ragnarok FIGHT, senseless and merciless.
Screenshots:
Download: