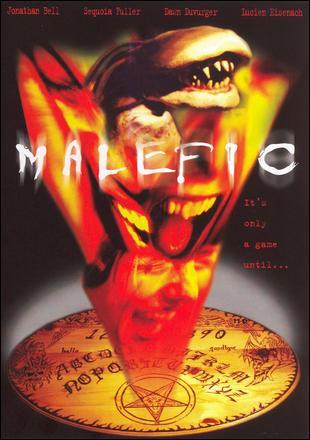 Year: 2003
Duration: 01:14:16
Directed by: Steve Sessions
Actors: Jeff Dylan Graham, Lilith Stabs, Cynder Moon, Lucien Eisenach
Language: English
Country: USA
Also known as: 
Description of Malefic: The storyline goes like this: Four criminals attempt the unthinkable — ransoming the corpse of a dead child back to the family. But things take an even darker turn when they find an old spirit board at the cabin they are using for a hide-out.
Now I need to mention that the four criminals are as 'Goth' as you can get. So if you like the Goth subculture, especially those hot goth women who like to show full frontal, then this flick has you in mind. On the other hand, if too much Goth makes you cringe with 'get a life loser' sentiments, I defer to the fully frontal nudity.
Still, it is a entertaining little flick with a mix of elements from Witchboard, Evil Dead, The Blair Witch (in this case, the Hobb's Witch) and maybe a touch of your Resivoir Dogs crime flick (or rather maybe a touch of a movie that tried for that Resivoir Dogs crime flick vibe).

Screenshots
Download