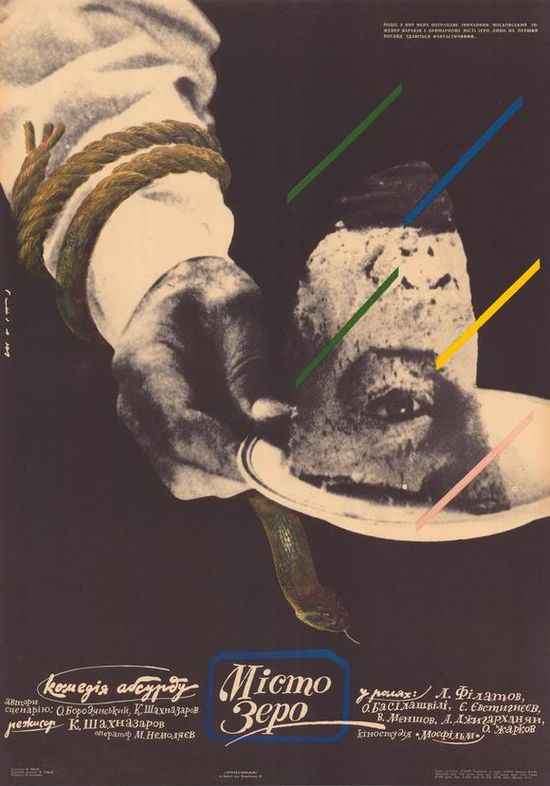 Year: 1989
Duration: 01:37:03
Directed by: Karen Shakhnazarov
Actors: Leonid Filatov, Oleg Basilashvili, Vladimir Menshov
Language: Russian (English Subtitles)

Country: Soviet Union

Also known as: Город Зеро; Città Zero; City Zero; Ciudad Zero; Kaupunki nimeltä Nolla; Miasto zero; Zéró város; Zero City
Description: Going on a business trip, the protagonist suddenly fall into the fantastic city. It is very similar to our world, only hidden absurdity of everyday life becomes obvious. City reveals one secret after another, and back to reality becomes more and more difficult …
Review: I would call the "Gorod Zero" comedy of the absurd, a sad comedy, where a man is forced by the will of the circumstances for the whole action just nonsense to listen and participate in a rather strange events. It's not even a caricature city, existing as if on another planet, and in the philosophy of some confusion, of a crossroads at which at the time was the country, and this philosophy, I think, is clearly present in every episode of the film. In general, here are captured elements of satire, but satire sad, very much gave a certain hopelessness. Not for nothing is predicted that, once in the city one day, can not get out of it than ever, as if from a magic maze. And though its unusual to the point of the grotesque, but it is our almost daily.
Soaked day mysticism plant, whose director does not know their customers, or their direct reports. Regional Museum, Nalepa exhibits solely on the basis of the local half-mad scientist's research, adding here and Roman legions, allegedly been to these lands, and a replica of an ancient Attila. Cheap familiarity with which respectable people reproach each other as close relatives. Mad legend cheated around the old rotten oak. Well, the story itself around, suddenly announced a relative – all this is so recognizable, in our stupid and clever at the same time, it does not require any effort to introduce yourself here so that's Varakina somewhere like this trip. All this bitter humor in the film is very much reflected the then reality.
Fabulous episode played conversations City Prosecutor (V. less) Varakina (L. Filatov), ​​where all the confusion, the creator around, reaches its climax. A small introduction to the philosophy of the Russian spirit and Russian statehood (which held during perestroika and later the minds of so many of our jingo). And then – okay, you're our guy, live as before, just stay Mahmoud. And do not tell anyone that this is not the case. That disappointment, which originated in the face Filatov, tired wrinkles on his forehead, still make me bouts of laughter.
The only thing, in my opinion, that spoils the impression of the film, it is taken as a basis for breaking the cultural barriers between the Soviet Union and the West, and the sudden mass hobby citizens rock and roll (I mean in the dance). I think it is generally not of a so massive, that on this basis it was possible to build a story. (As shown in the "dudes", for example, colorful jackets and bearded hairstyles were the attributes of a very small number of young people and were of such a common occurrence, as you can tell from the film). And, as always, I think, a little bit frustrating to the Russian ear it sounds typically American (not English, even) "cancer, cancer, cancer" with a deep, distorted sound that resembles a street slang. Otherwise, everything is wonderful.
Screenshots:
Download: