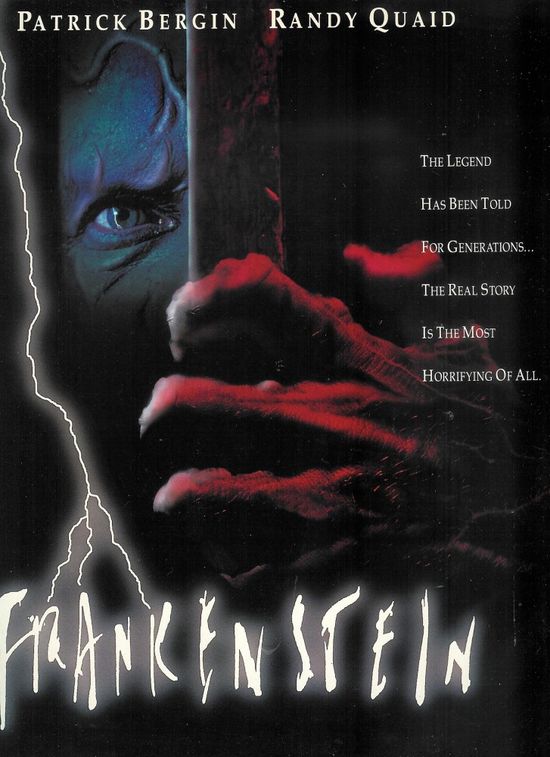 Year: 1992
Duration: 1 Hour 57 Min
Directed by: David Wickes 
Actors:  Patrick Bergin, Randy Quaid, John Mills, Lambert Wilson, Fiona Gillies, Jacinta Mulcahy
Language: English
Country: UK
Also known as: Frankenstein: The Real Story
Description: Faithful adaptation of the famous novel starring Patrick Bergin as an intense Dr. Frankenstein and Randy Quaid as his angry, confused creation. John Mills gives good support as the hermit who befriends the wandering monster.
Some nice touches here – the doc and the monster have a psychic bond, and Bergin shows off his earlier, Herbert West-style creations including a cat's head on a snake's body!
This 1992 made-for-tv production from Ted Turner has only had a PAL dvd release in Germany, but with no English language option (I found out the hard way). This rip was taken from the US laserdisc and is the full length 117 minute version.

"Dr. Frankenstein is serving humanity. He's developed a treatment for cholera and manages to create a living being in his laboratory. He develops a spiritual link with the creature that is only brought to light after the creature escapes into the city and makes its way to the woods. They feel each others pain and happiness all the way to the final meeting at the ends of the Earth. Just how true is this Made For Cable version to the original story? I guess you will see if you grab this TNT Original Premier presentation complete with a countdown of cartoons, and a short documentary, but no commercials.   "
Screenshots
Download