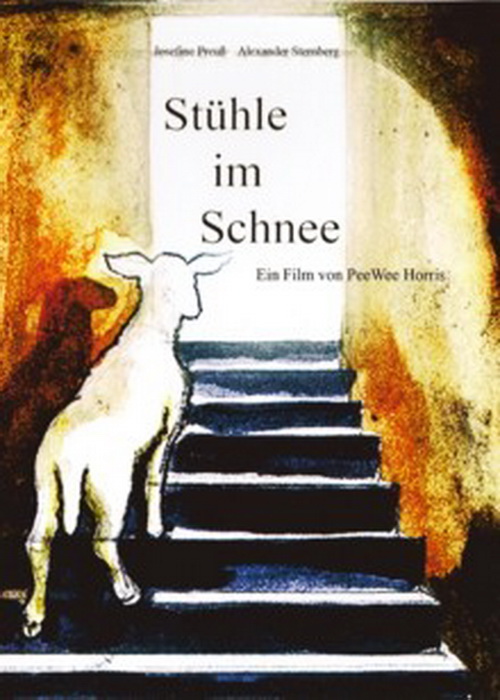 Year: 2007

Duration: 00:27:42
Directed by: Horris
Actors: Josefine Preuß, Alexander Sternberg
Language: German (English subs)

Country: Germany

Also known as: Stühle im Schnee
Description: The situation seems desperate: The 14-year-old was abducted by Clara Thomas, 30, a brutal child molester, and is for 5 weeks in the violence. Maltreated and abused cruel they languishing in a box in the basement of a residential building. Clara's only hope is the cellar key, with the Thomas deal now very careless to bring under their control. But shortly before the finish Thomas foiled their plan to escape and gets furious. He tried to drown Klara. But the moment in which Klara losing their hope, and where their suffering is greatest, they can bring about a change. Now that she had her own death before his eyes, it loses all of a sudden the fear. They developed an almost inhuman strength. In the face of the greatest danger she remembers her own strengths. She has accurately observed that Thomas quickly with resistance and opposition loses its position of power and control. And so she dares to oppose him. The success tells her. And soon tipped the balance of power. And from the moment when Thomas they considered to be a worthy opponent, the fight for survival begins.
Review: Child rape – the worst crime you can imagine, after the murder of children, killing our future.
How we deal with it, in a reality in which we encounter this crime again? What is the purpose of art? They should explain what can not be solved? Should they warn, where there is nothing to warn? The art is to raise awareness. Fee assessments may not remove the people from the topic. Self-protection by distance in the ideas and feelings of all can not be the basis of the general discussion of this topic in the middle of our society hideous. A truth shows through and through. Glasses, factually and with targeted placement Every society has a universal language. A language that everybody understands. The stories and fairy tales. Fairy tales and stories that surround tell truths and ideals, in alienation and fantasy. Fairy tales and stories with emotions. They document not, they lead to the identification, for the opening of hearts and minds that they touch. The chairs in the snow transfer a truth, a horror by desires and emotions that tell the images and words. The crime is carried on the existing opinion over, on rational thought over and touched funneled where the consciousness will be closed protectively. The chairs in the snow to manifest themselves differently in the thoughts and memories. You should enter the consciousness of the viewer another foundation, namely the presence of a threat, in images that they touch directly, forgetting in a language understood by everyone and no one.
Screenshots:
Download: