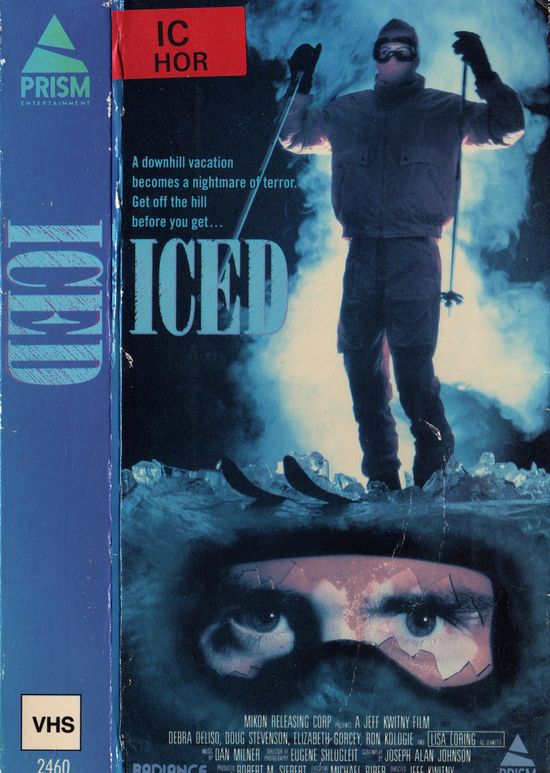 Year: 1988
Duration: 01:26:34
Directed by:Jeff Kwitny
Actors: Debra De Liso, Doug Stevenson, Ron Kologie
Language: English
Country: USA
Also known as:Blizzard of Blood,Temporada de Sangue,Hyinen kuolema,Iced – Der Tod auf Skiern
Description: The young man Jeff from unrequited love to a pretty girl Trina during skiing commits suicide, at full speed jumping down from a steep slope and disappeared in the deep and boundless snows. Takes place four years, and the mysterious stranger invites the culprit of the tragedy Trina and some of her friends to relax and enjoy skiing in the winter resort. Of course, soon the teenagers begin to die at the hands of a mysterious killer…
Review: Slasher, filmed at a time when the era of the popularity of movies of this kind are already receding into the past.
The film Iced is quite average, but the ending is generally predictable and the killer's identity to determine quite simply, in the middle of the picture.
But there is in the film moments, which you should pay attention to.
First, it is exceptionally well written dialogues, of which each character of the film presents to the viewer a real person, not a nameless, faceless young-soon, one after the other to move away to another world.
Well, and secondly, the music of the film. This is a kind of musical mash-up, but in my opinion, the right mood it creates.
In the rest of the story about a young man named Jeff, who from unrequited love got drunk and killed while riding downhill skiing, and after a few years to just open a new ski resort is going the same warm company and a ruthless killer cuts young people one after the other, so this story is not particularly torkaet.
A lot of inconsistencies and illogical moments. Disgusting installation. You will feel some kind of feeling of the picture. Great dialogues, plot, from which you could pull a lot. And the incarnation, which in General would be of interest only to fans of the genre.
Screenshots:
Download: