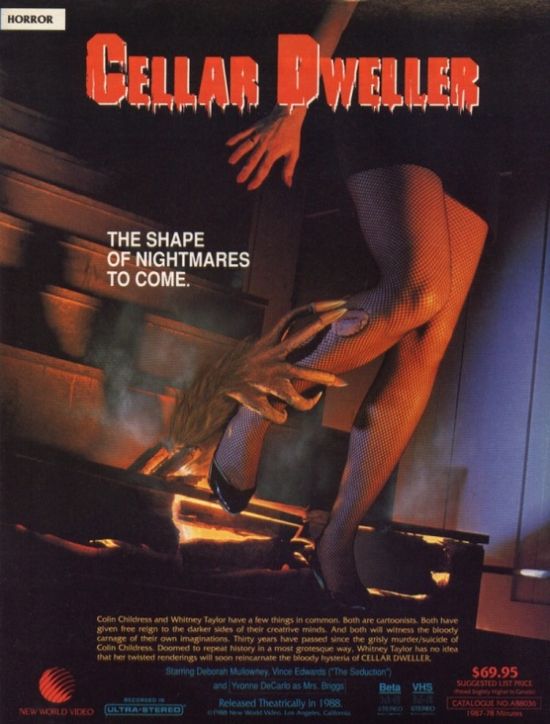 Year: 1988
Duration: 01:17:55
Directed by: John Carl Buechler
Actors:  Yvonne De Carlo, Debrah Farentino, Brian Robbins
Language: English
Country: USA
Also known as: Underground Werewolf, Criaturas al acecho, El morador de las tinieblas, Mieszkaniec piwnicy, O Monstro Canibal, Ork
Description: Comics painter Colin Childress locked in his basement, draws innocent horror comics, inspired by the Necronomicon -like book with a pentagram, and by mistake he "called" a huge monster in this world, and that somehow to cope with it, Colin decided to burn all his pictures, On the one hand he did it, but on the other, along with the monster burned himself.
30 years later, in this unfortunate house comes  young artist Whitney Taylor, she's a big fan of creativity of Colin Childress and landlady Mrs. Briggs asked what would it be allowed to draw comics in the basement, where 30 years ago, died Childress. Whitney makes the same mistake that once and Colin, she also releaves the monster, putting their lives and households in greater danger.
Review: Truly stunning horror genius John Charles Buehler "Cellar Dweller", the output we also called "Basement Dweller" – best picture in the master. Of course, there was also a chic "Troll" and "Friday the 13th: The New Blood", but this film has secured a first-class reputation Buechler artist "monstrmeykera", creator of many monsters recognized masterpieces of horror "B". Here and above the film "Troll", creatures that are so attractive as it is terrible, and then "New Blood", where Jason Voorhees takes off his mask, and many other bands, which Buechler worked up artist, and sometimes combines these duties with the director . So this chic "B"-horror was no exception. Monster of the film is undoubtedly one of the most terrible in the world cinema.
The plot is built around the artist that draws comics, who inadvertently causes in our world a monster. As a result, attempts to destroy this creation, the artist dies. Thirty years later, the house comes a fan of the artist, who also draws an innocent picture. She asks to be allowed to do in the same basement, where he once killed an artist, and then produces a monster on the freedom …
In the film, there is no flaw. This is the perfect horror that looked great at the time, and that looks good now. Blood and meat, the plot, the chic monster tense moments, direction, makeup and decorations – all enjoyed it when watching.
With much love and care went Buechler for imaging monster. It was very scary and unusual. Perhaps this is one of the best creations in the "beshnyh" horror. Moreover, the monster's not a bizarre doll, it really realistic, no matter what happens. Its roar, mime, movement – all at the highest level. In this sense, even "fire" final tape does not cause any problems.
Acting is also good. Horror fans will be pleased to see one of the roles of Jeffrey Combs – actor, a true legend of horror. The others are playing well. All the actors are perfectly fit in your images: no annoying, no replays or nedoigryvaet – in terms of acting all perfect and very high quality.
Directing completely classical, Buehler did not deviate from their canons, however, directing his handwriting has always had felt in all his tapes. And this was no exception. The best part is that he does not revel in long and tedious dialogue (even those here and there, and all replicas of the characters always say on the merits and choose wisely), and begins to revel in the action – the monsters, excellent demonstration of its technical make-up and all sorts of special effects, which, it must To his credit, too, made with care and love for detail.
Screenshots:
Download: