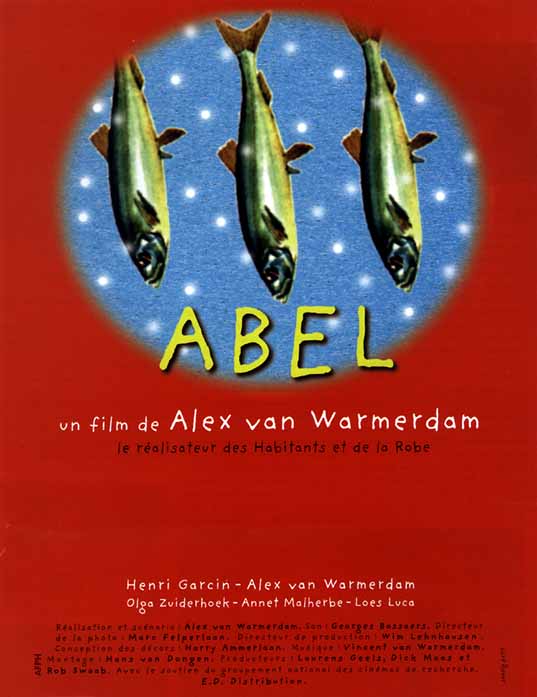 Year: 1986
Duration: 01:38:50
Directed by: Alex van Warmerdam
Actors: Alex van Warmerdam, Henri Garcin, Olga Zuiderhoek
Language: Dutch (Subtitles – external link)

Country: Netherlands

Also known as: Abel | Ábel | Voyeur
Description: Dutch cinema has always been culturally in many ways the successor of the national traditions of Dutch painters of the past. So who did not take-off of elite works Jos Stelling to a "spectator-mass" style of early Paul Verhoeven-all just bursting with visual styling, Brueghel, Bosch and Rembrandt!
So this movie Alex Van Varmerdam, superbly managed to dispose of the play of color and light, transformed into a painting in the spirit of "the Flemish school." We can say that this film flower (as here without comparisons with tulips), blooming bright Kolor across the screen space, as the viewer. These are the movies and move the visual component of "most important of the arts," equating them to the artistic value of the paintings hanging in the Museum Boijmans Van Beuningen …
"Abel" – the film is thin and difficult (for "not configured on the wave" of the picture viewer), sometimes you just want to press the "pause" and a few minutes to catch my breath, a powerful stream of meaning flowing images from the screen. Rhythm is not important in this film, he then slowly, dozens of cute items, Homeric-absurdistkaya poetics, farce, drama, theater, all mingled in finding kinovenegret. With mathematical precision shuffled sequence of frames, the grand master of the alternation of scenes-issue in Van Varmerdame skilful master of direction (to the producer of the movie, he worked in the theater).
Screenshots:
Download: