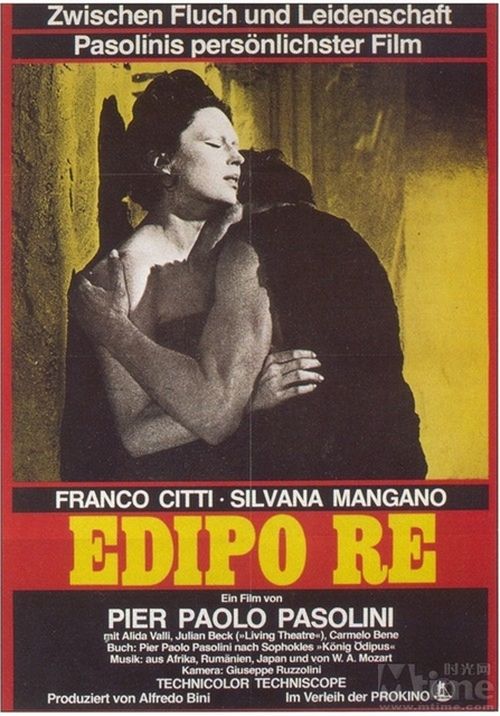 Year: 1967
Duration: 01:39:58
Directed by: Pier Paolo Pasolini
Actors: Silvana Mangano, Franco Citti and Alida Valli
Language:  Italian | Romanian (song lyrics) (English subs)

Country: Italy | Morocco
Also known as: Edipo re, Édipo Rei, Edipo rey, Ödipusz király, Król Edyp, Oidipus
Description: "Oedipus Rex" by Sophocles – the product of an exclusive and unique in both its storyline and semantic filling. A Pier Paolo Pasolini (Bawdy Tales) filmed this amazing literary monument.
Retelling of Sophocles cinematic language has gone Pasolini could not be better – the picture does not smell standard adopted for the classic film adaptations. The director gave a familiar line in the right, as in the ancient Greek poet, ambiguous light.
Despite the fact that the main characters speak lines of the original, the tape is completely individual. Pasolini's "framed" the classics in modern frames without adversely affecting the perception and experience of the new cinematographic. Author tape left from the retrospective work, sorting the events in the proper sequence.

Review: A film based on Sophocles' ancient tragedy, the story is no different from a classic: The king of Thebes, son, but according to the prediction he was prepared for a terrible fate, he had to kill his father and marry his mother. Fearing the fulfillment of this prediction baby was left for dead in the desert, but it certainly saved the royal family of Corinth, in the end did not know about the prediction Oedipus Rex fully execute it, than expose Thebes terrible test some disease …
In Pasolini get a real antique tragedy about the role of fate in our lives and the fact that the vagaries of fate not only that we are not perfect, but it is useless to run. Since the film was made after the establishment of Freud's concept of the "Oedipus complex", the film can be found some response to this theory, only jealousy will suffer not only Oedipus, however, his real father, Laius, and that will be to some extent triggered tragedy …
Screenshots:
Download: