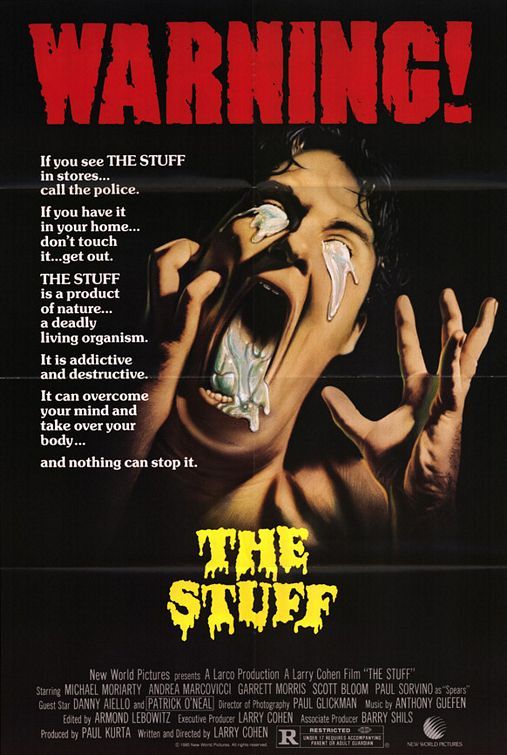 Year: 1985
Duration: 01:26:32
Directed by: Larry Cohen
Actors: Michael Moriarty, Andrea Marcovicci, Garrett Morris
Language: English
Country: USA
Also known as: A Coisa,In-natural,La sustancia maldita,The stuff – Il gelato che uccide
Description: This film is more comedy than horror. The plot itself makes fun of various horror films that have flooded the cinema. What could be funnier than a white mass, devouring people. But people will eat it! By the way, the word «stuff» translated to English has many meanings. By the film fit are just some of them: 1. The substance, material. 2. Trash, rubbish, rubbish. 3. Thing, thingy. 4. Drugs (after all this stuff attracted people like a drug.) 5. Filler. 6. Food reserves. 7. Food and drinks (ie, everything that is eaten). 8. Overeat. And it's less than half the value of the word, only the ones that are suitable for this movie!
"The Stuff", despite its comedic, raises serious problems. The film is said that all these managers and owners of retail outlets, all of them, in fact, does not care about what they consume normal people, the main thing for them – to sell a product. Better yet, if it's something unknown, something new. So it turns to the "trash." When everyone realized that it is better not to deal with it, and forget it, there's a new product called "Yummy."
As in many other films in the "The Stuff" is the child discovers shocking properties of white mass, at first no one believes him, and then all convinced that he was right. This technique is used in many other films, so here it does not cause much interest.
The very sight of this "stuff" is laughable. Indeed, it is hard not to laugh when the white mass of chasing people and devours them. Larry Cohen (director of Perfect Strangers movie) did laugh inherent effect of this film, although not all filmmakers succeed. Laughter is laughter, but Cohen managed to drag in the film a scathing satire on modern production, but this is rarely meet.
Screenshots:
Download: