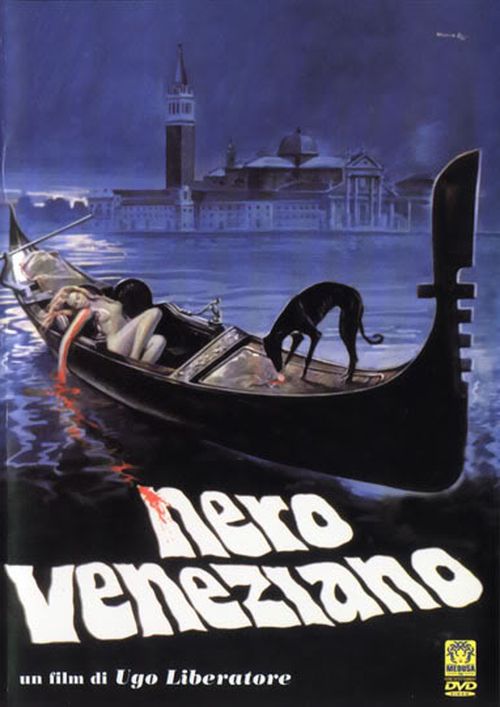 Year: 1978
Duration: 01:28:56
Directed by: Ugo Liberatore
Actors: Renato Cestiè, Rena Niehaus, Yorgo Voyagis
Language: Italy | English (mp3 file) | English subtitles
Country: Italy
Also known as: Nero veneziano (original title)
Description: Mark and Christine are brother and sister raised by a very strict grandmother after the death of their parents in an accident.
Mark is blind but starts having clear visions of a man with a cane with the appearance of Death,
When their grandmother dies burned in a candle accident that Mark caused without knowing, the local priests tells them to find their maternal family, the Winters whom their grandmother always accused of being the culprits in the death of their parents.
Initially skeptical of the siblings the Winters family still takes them in a guest house where the waters are supposed to be miracle.
Mark hopes to cure his blindness, but instead the visions start to get ever more gruesome.
Review: Paraphrase on the next birth of the Antichrist , which, after the brilliant "Baby Rosemary" by Roman Polanski no-no and appeared on the screens of the Old and New Worlds. In 1978, the Son of Satan has desired to show themselves to the world in Venice, and the obstetrician made ​​not the most famous , but it is quite skilful Italian director Ugo Liberatore , for which the "Venice Darkness" was not the first attempt at using the commonplaces of stories for their own purposes . For example, in his previous work , " Noa Noa " he presented to the public the next version of the adventure of the crew "Bounty" . Public, it must be said , is not particularly impressed , despite the fact that the exposed " aboriginal " there does not disappear from the frame.
Draw the appropriate conclusions , erotic component «Nero Veneziano» director severely restricted : as they could possibly commercial Italian cinema 70s of the last century . Say, to frighten and scare so nothing to stare at naked women . Well, if so, the goosebumps , the potential audience , it was decided to call from the first frame , not postponing indefinitely the case with any game there preludes and contrasts. Venice from the outset appears gloomy, cold and wet city in which to live , and if safe , is it that ghosts (just like in St. Petersburg in late autumn ) . Via this zombie -town navigate exclusively funeral gondola house falling apart from the damp , gloomy people , and the sun never comes out from behind the clouds .
Screenshots:
Download:
Damned in Venice – English sound file