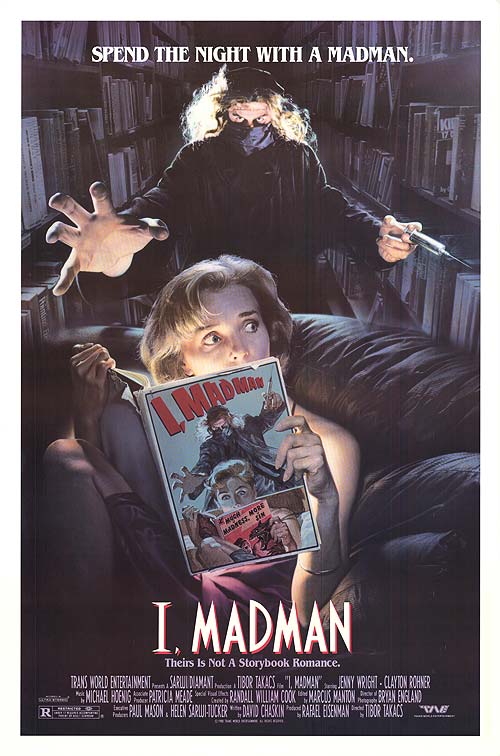 Year: 1989
Duration: 01:29:10
Directed by: Tibor Takács
Actors:  Jenny Wright, Clayton Rohner, Randall William Cook
Language: English
Country: USA
Also known as: Hardcover, Histórias de Terror, Lecturas diabólicas, Lecturas satánicas, Lectures diaboliques, Minä mielipuoli, O Terror da Cidade, Prefácio da Morte, Sola in quella casa, Sola… Nel buio, Tvrd povez
Description: Some chick with an overly vivid imagination is fascinated by the works of a particularly macabre author who was insane.  Lo and behold, the lines between what is real and what is imaginary begin to blur as she is stalked by a lunatic who appears to be straight out of the pages of the latest book she has found by said author.
Young woman reading captured Virginia horror story. In my mind, it identifies with the heroine of the book, which is pursued with passion-burning madman. Literary monster suddenly breaks out in the real world, to commit murder, previously described in the novel. And its main purpose – Virginia.
Review: The film "I, Madman" (in my opinion, such a transfer is appropriate) is remarkable not only addictive atmosphere Pulp Fiction and appealing heroine played by Jenny Wright, and charm that makes the reader (viewer) to love the work. Even if it the second time and will not be revised or re-read this simple story, which had accumulated over the years are countless.
The main heroine of Virginia like "horror", albeit simple in content, but well-written. She gets his hands on two books by the same author with an unhealthy imagination. On account of the fact whether the fantasy ever be sick or not, and other philosophical calculations in the film, I did not find, as a particularly terrifying nightmare. However, it costs the surfeit of modern horror films that are significantly blunted sense of fear, and indeed, as explained by professional critics, we have not a thriller, but rather a comedy.
I liked the fact that "I, Madman" looks at one go, and that after some time he vanished from his head, somewhere in the subcortex images will climb the avalanche of books girls fleeing the insane killer with a disfigured face.
The fact that this film is cut off the top prize at the festival of fantastic film in Avoriaz, which, by the way, I've learned because of their ignorance just adds film Tibor Takács prestige. It turns out that award recipients became Steven Spielberg, James Cameron, David, Cronenberg, Peter Jackson, and David Lynch, and Brian De Palma were awarded the main prize twice.
A beautiful example of the movie "low genre".
Total outputting the final assessment, I can call this film "I, crazy 'good mystery novel with a very interesting slogan for any self-respecting reading:« Lose Yourself in a Good Book »(« Lose yourself in a good book "). And praise the effective final standing after a series of preliminary approaches. However, the place of performance sags in tact, sometimes unprofitable slackening intensity increasing degrees of horror, making the viewer's perception of the scenario is lost in the voids, losing the exact clue dangerous detective investigation of the mysterious writer, invented the book, which embodies the sinister reality of the chapter.
Screenshots:
Download: