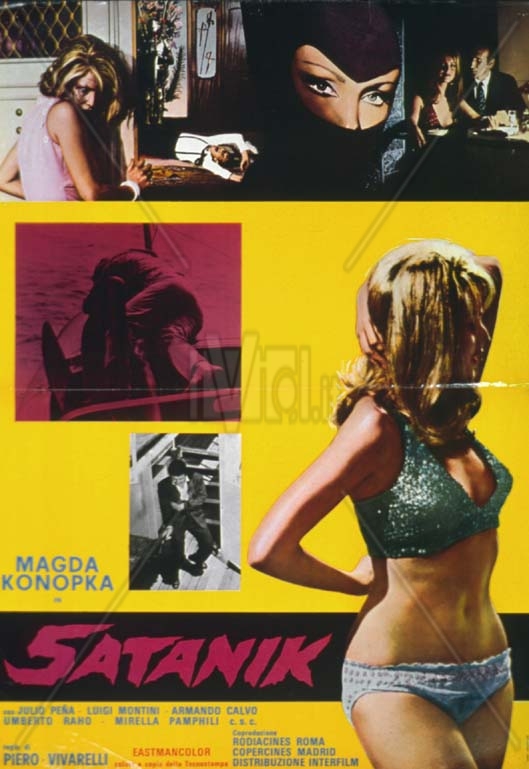 Year: 1968
Duration: 1:23:18
Directed by: Piero Vivarelli
Actors: Magda Konopka, Julio Peña, Umberto Raho
Language: Italian(original) and English(dubbed)
Country: Italy, Spain
Also known as: Satanic
Description: Ugly old woman transforms into a beautiful young chick after drinking the elixir of youth
Throw away those horrible pan & Scan retro media dvd's , its time for a upgrade. Using a sweet looking Italian TV Print i've added the English Audio from the old print , There were loads of scenes which needed the audio to be looped from the Italian Print , but only one had any dialogue and its about 30 seconds long. The English audio suffered from missing words , jump cuts from i guess damage to their print. The sync is OK , Not perfect but its a little better than the old vhs rip , the audio took over 200 edits to fit and this took 5 days work to bring to you , my friends.
Review: Cinema comix with negative protagonist thanks to the success of the franchise Fantômas was in Europe, the second half of the 60s of the last century in demand enough to follow the attempt by the French and the Italians carried out. Their "Crime", true, "charming and attractive" of his Parisian colleague and did not differ much success is not earned. Then, with the filmmakers decided to pull up the peninsula over the heavy artillery, moving into the role of the main protagonist compelling criminal beauty – by itself in a suit and a superheroine with a bunch of other devices to boot. But were even more devastating setback. "Satanik" appeared lethargic, low-motion, it is nezrelischnym of action, which was unable to retouch many mistakes and conditionality inherent in the comics. As a result, the film's heroine adventure looked ridiculous even for its time, although the plot develops in line very far from parody. In addition, Magda Konopka as a beautiful villain frankly looked helplessly and memorized unless striptease, erotic dropping his mysterious costume (by the way, more in the film, she wore it and did not).
The original idea, however, was not bad. Merging into one story of Dr. Jekyll and Mr. Hyde with the story of eternal youth gave a wide scope for the imagination. Especially in the aesthetics kinokomiksa originally unencumbered unnecessary psychological reasoning. And the debut seems to be hope for an unpretentious, but enough to justify a colorful show. Night, the rain running down the highway ugly woman, desperate to catch a taxi … Finally, she did it and she gets to some of the Institute of Biochemistry, where, as it turns out, it is known under the name of Dr. Marnie Bannister. Here she begs for a long time an old scientist Professor extremely kind to give her some medicine, and having been refused in a rage accident kills. After that blends in vitro smoking colored liquid and greedily drank the resulting cocktail …
The resulting potion has a truly fantastic result – it is not only transforming the old woman-doctor in fatal Satanik beauty, but also makes her gorgeous hair, lips and nakrashivaet tidies crumpled clothes. Even for a comic book, this effect may cause one to smile. But it would be izvinitelen if these adventures Marni Satanik any way to develop action. But that did not happen in the future with the heroine Magda Konopka, for the viewer, it is clear imprint of boredom. Her fight with the inspector from Scotland Yard Trent in the least different from the one that led Fantomas with Inspector Juve. And not just because the sense of humor of the writers and director of Italian-Spanish movie was missing a class. Konopka not pulling on the role of superheroine – no way. That's the way it was a star of striptease in the right place, but her character is found only an episode. All the rest of Satanik worn in search of eternal youth potion, cheat, kill, run away, caught in a net mafia and she weaves them against temporary allies and permanent enemies. But for all those wandering from film to film storylines began to play their own paints were needed charismatic actors and able to translate this into reality charisma director. But the Spaniard Julio Pena as Inspector Trump is so painstakingly depicts the Anglo-Saxon pedant that can only call ironic smile, but about Magda Konopka I have already said above.
Remained except to wait for the final, which harbored only one affair – if the filmmakers had hoped to continue? That is, they left her character in spite of all its atrocities, a live or is it deservedly killed … However, with such a pale image of Satanik even the question of little interest. Hardly anyone in the right mind would have took it in his head to see the continuation of such stories began sluggishly. It never came.
Screenshots:
Download: