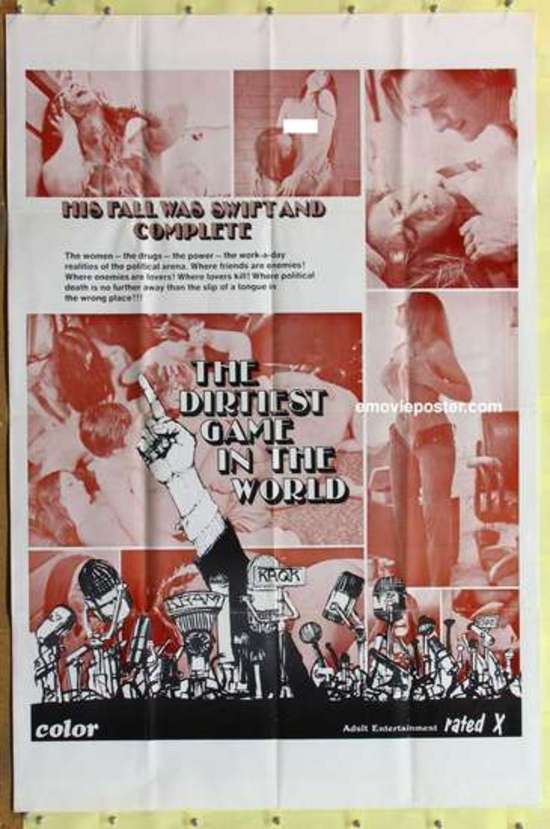 Year: 1970
Duration: 01:05:04
Directed by:  James Bryan
Actors: Titus Moede, Bruce Beard and Francis Fey
Language: English
Country: USA
Also known as:  Blood Flesh and Tears, The Dirtiest Game in the World
Description:  Ok, let's be honest here..  I have not seen this movie, just fast-forwarded through it. I don't think I could put up for one whole hour watching this movie, yet I am pretty sure there are a few of you interested in this, so here goes.
Director James Bryan, who was partly responsible for the classic Don't Go in the Woods, co-directed this piece of sleaze almost 15 years before.
"A relic of a bygone time, The Dirtiest Game in the World pushed the envelope for 1968, being a mere tongue's length away from hardcore. Beyond cheap production concerns an aspiring young politician going for the "hippie vote" by campaigning for legalized pot. Ultimately, he finds himself sucked into a counterculture scene of free sex and bountiful dope smoking. He leaves his boozing wife, but she pursues him through a chain of underground sex parties…she, too, becomes victim to the lure of depraved lifestyles."
"This one contains some pretty unsettling scenes, especially one wherein our young leading lady masturbates with a razorblade, graphically slicing at her naughty bits before blowing herself away with a pistol. The always-interesting Titus Moody stars (and exposes to us the hairiest back and ass in the history of smut films) in this sleazepot, which contains hippie pot orgy scenes that look like a hot night at Spahn Ranch. Overall, more entertaining than most flicks of it's ilk. Know what you're getting into… "
(from imdb)
The moral of this story? Don't smoke pot.
Screenshots:
Download: