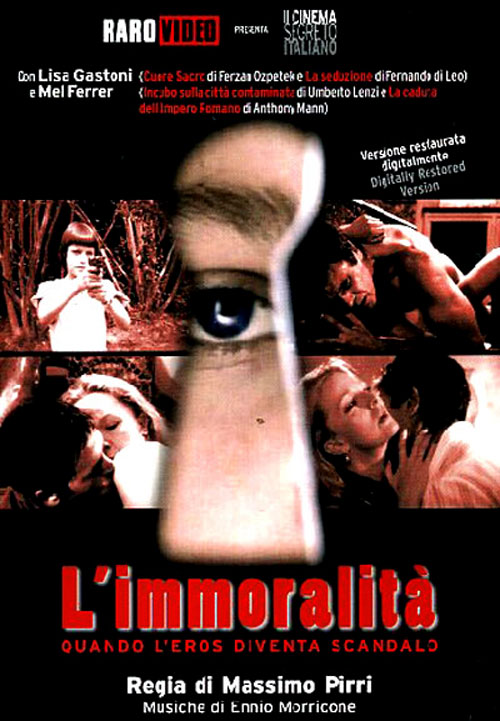 Year: 1978
Duration: 01:46:20
Directed by: Massimo Pirri
Actors: Lisa Gastoni, Howard Ross, Karin Trentephol 
Language: Italian (English Subs)

Country: Italy
Also known as: La venganza de Baby Simona, Dipli apistia, Cock Crows at Eleven
Description: This film should not be compared with " Lolita ." If "Lolita" is riddled with bitterness and love, " Immorality " – a sensual and crazy story.
The film L'Immoralita tells the story of a dysfunctional family , which consists of a disabled father , secretive girl of twelve and a mother who is a libertine lifestyle. She changes her husband gets drunk and wants him dead . Girl named Simon at this time on her own .
During one of his walks in the park , she discovers a wounded man near a pond and wants to help him. This man is a pedophile , a murderer , whom police are looking for , but the girl is not the least bit scary. She continues to hide and support. Federico ( pedophile ) is quite friendly to her concerns . Friendly, and even with interest .
The dynamics of the plot begins when Vera (mother Simone ) finds shelter Federico. This episode followed sensual , fiery scene. The movie just come waves of emotional stress . Goodies in this film is not all crazy in their own way . The ending of the film was an unexpected but pleasant .
– There are birds that live in small groves , and those who commit brief movement . And there are those who fly in the sun all winter.
– And what do you prefer?
– Those who fly far, far away . They are the most daring .
Review:
Screenshots:
Download: