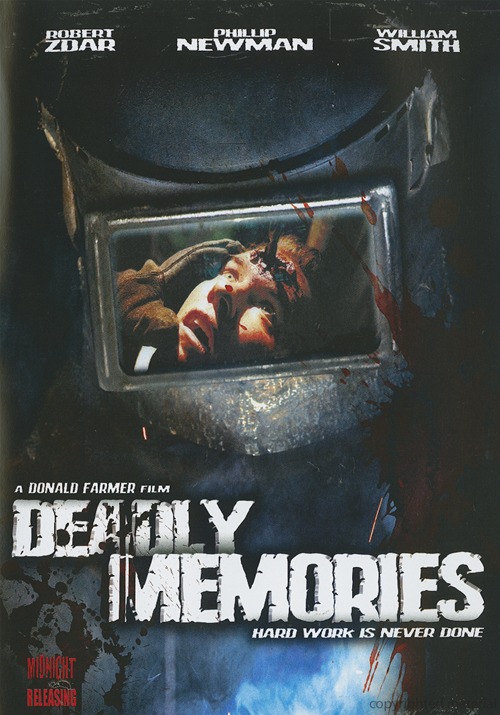 Year: 2002

Duration: 01:46:02
Directed by:  Donald Farmer
Actors: Phillip Newman, William Smith, Robert Z'Dar
Language: English
Country: USA
Also known as: Deadly Memories, Dangerous Highway
Description: Two years later, after a woman dies in a car crash, three teenagers responsible for her death, were killed one by one. Their death is mysterious and terrible. And, apparently, is the work of the husband of the deceased, mentally ill garage owner.
Review: "Body Shop" – only a stupid and pointless thrash scene, which had been worked in this genre veteran Donald Farmer. What made this unfortunate directed only remotely resembles a thriller. So mangled cliches and movie clichés are worth looking for. Shockingly it everything from camera work and ending story, which causes bouts of hysterical laughter. I still can not understand for whom such a slag is removed, as normal, adequate man considers his removal of the brain and nothing else. However, there is always some "second Hitchcock," which would remove his "masterpiece", to once again prove that incompetence always enough.
The plot of the movie Body Shop, so to speak, from the category – have seen many times before. The plot, as expected, the most primitive. But you must where to begin. That's Donald Farmer was not a long time to work on the story and tell the world their "complete tragedy" and "sadness" the story of how a few mindless teenagers rushing to meet the new adventures, have led to an unpleasant incident on the road, because of which the local garage owner killed his wife and minor daughter in a coma. Now, three young offenders waiting very well, massacre, while the man who falls from a new misfortune to work "brilliant" by Donald Farmer (Chainsaw Cheerleaders and Red Lips), will be forced to look at it all.
Screenshots:
Download: