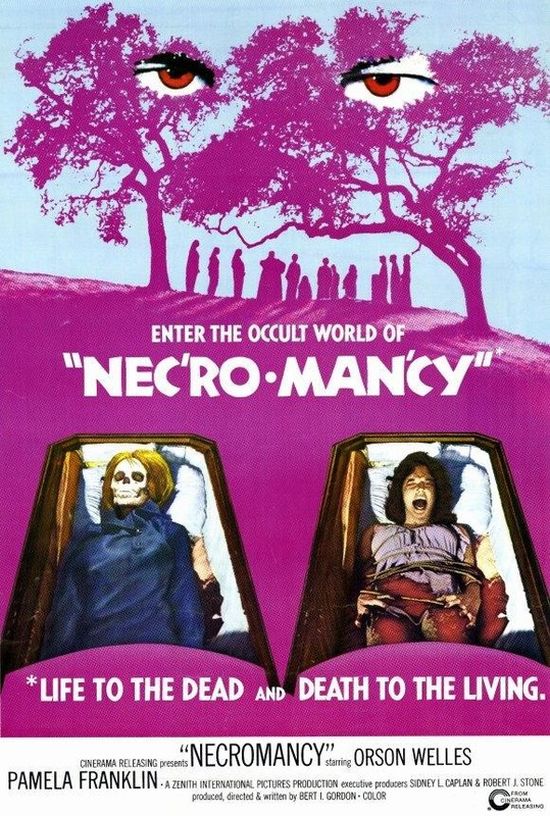 Year: 1972
Duration: 01:16:47
Directed by: Bert I. Gordon
Actors: Orson Welles, Pamela Franklin, Lee Purcell
Language: English
Country: USA
Also known as: A Life for a Life, Horror-Attack, Rosemary's Disciples
Description: This somewhat infamous Satanic thriller is best enjoyed for its star – one Orson Welles. The genius behind Touch of Evil and Citizen Kane was never too fussy about the acting roles he took, but few of his on-screen performances can compare to this incomprehensible low budget potboiler.
The plot follows Lori and Frank Brandon, a go-getting young couple who relocate to the town of Lilith when Frank gets a job at the local toy factory. Unfortunately, the town of Lilith is run by a coven of witches, overseen by Orson's tubby warlock, and they need Lori for a mysterious ritual…
It's a terrible movie, but terrible in all the right ways. With the obvious exception of Orson Welles, the cast is uniformly terrible and the plot makes absolutely no sense. To liven up the innumerable scenes of Lori fretting, panicking and making half-hearted attempts to flee, Bert I. Gordon had the good sense to include several scenes of fairly tame black magic debauchery, which mostly consists of nudity and whipping. Lots of whipping. And candles.
Things become even less logical at the conclusion – if that's possible – and there are enough plot holes and unexplained story jumps to keep continuity nerds chugging painkillers for a month. Having said that: nudity, whipping and candles.
Review: Few are allowed to enter the town by the name of Lille, as each of its inhabitants somehow belongs to a local sect of occultists. One young couple, Frank and Lori, it is nevertheless possible. And all because the head of the sect has decided to revive his dead son, and for that he desperately needed supernatural powers Laurie.
Screenshots:
Download: