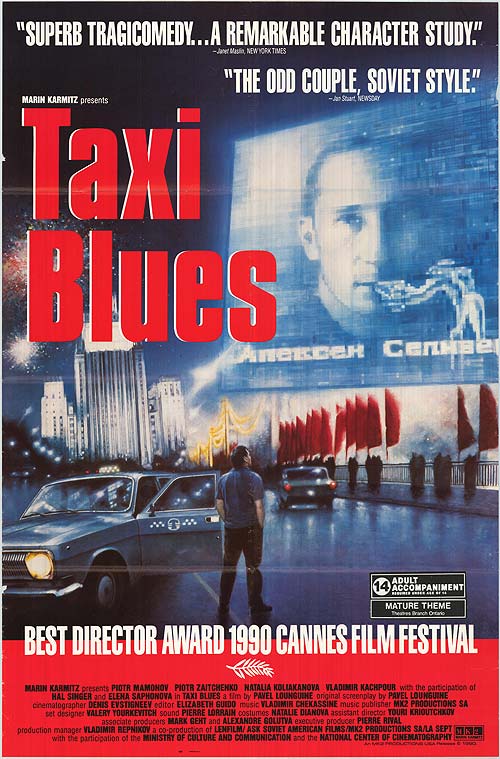 Year: 1990
Duration: 01:45:32
Directed by: Pavel Lungin

Actors: Pyotr Mamonov, Pyotr Zaychenko ,Vladimir Kashpur

Language: Russian ( English subs)

Also known as:Taxi blues: Entre la perestroika y la revolución, Taxi blues ,Такси-блюз
Description: Melodramatic story about how life has connected two in no similar people – practical taxi driver and a submissive drunken musician.
Review: There once was a normal taxi driver. Life measured without shocks, experiences, very normal, so it's very boring. However, our hero she was okay. The fateful meeting with a musician, as a push changes the worn-out on a new trajectory. It is difficult to say the best, new, what's most important. The taxi driver himself did not understand what is happening to him. Rusty gears in my head start to scroll. Moving slowly at first hardly, then faster.
The image of the genius, but drinking musician I am a little interested. Interestingly another – the transformation of a taxi driver, it is difficult to say who it is. Importantly, he saw the world may be different. Like waking. «Neo, the matrix хэз Jo». Hard to change, it is hard to recognize its limitations, but there is no other way. What to do? Forget about the strange meeting forever, throw out of memory, drown incomprehensible anxiety in the gym? Or admit That something is wrong with your life, with you.» See the world outside the window. Left to break the glass.
Dirt around does not prohibit be a man. The scene when the musician washing a car key. Yes, there is dirt, bottom, but there is the sky. And not somewhere far away, unreachable, and here it is right in a communal apartment, right here, among scraped walls. Heaven inside you.
Brilliant transferred to the suffering of the soul of a taxi driver. He wants to share discovered. In his surroundings there is no one who would understand, only a musician, but friendship was over. It is all the same, it dissolves in the vast empty city, and suddenly becomes so lonely.
The film leaves no hope. In this great drama. Very difficult to live in the limited, it is difficult to recognize, difficult to overcome it, and then suddenly it turns out that the watch is a hundred times harder than the bed.
Screenshots:
Download: