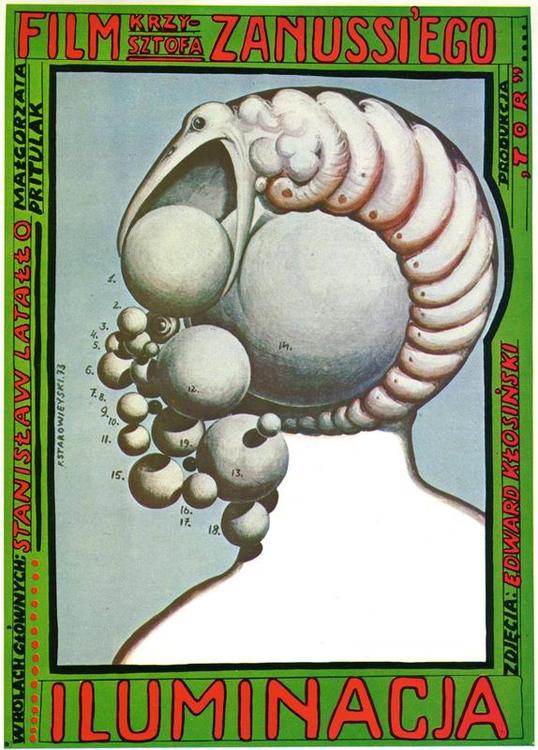 Year: 1973
Duration: 01:27:28
Directed by: Krzysztof Zanussi
Actors: Stanislaw Latallo, Malgorzata Pritulak, Monika Dzienisiewicz-Olbrychska
Language: Polish
Country: Poland
Also known as: Iluminacja, Illuminazione, Elämän valo
Description: Frantisek Rathmann had to work hard to get to study in Warsaw, at the Department of Physics. It is physics, to convince the hero, is a science that gives clear and specific answers to questions. Over time, experience and love troubles cast doubt on this belief. Frantisek hard going through the death of a friend in the Tatras.
In the mountains, he meets a girl, and a short-lived romance comes to an end his marriage, because young people are expecting a baby. The circumstances and the duty to support a family forced to leave Frantisek training, get a factory and take part in experiments neurological clinic. But the search for the essence of life for the main character does not end there, because before long life ….
Review: Despite the apparent triviality, and sometimes even immersion in daily life, many of the films of Polish director Krzysztof Zanussi are modern parables, moral, philosophical reflections on the author's life and really intelligent arguments in the long ongoing dispute that is man. In broad terms, it can be considered cinematographic metaphor for human existence, which is quite complicated and confusing – and a special thickening of allegory and metaphors reach just in the "Iluminacja".
Man can not live in a straight line. He often does what should not, and the fact that he does not want to do. And going to the comprehension of personal happiness and the meaning of life through mistakes and failures, rushing from side to side, as if by some convoluted path. This kind of schedule soul played in one of the frames of "Illuminations", which is among the best works Zanussi.
In general, then, what will the main character, whose name Franciszek, of course, hints at the St. Francis of Assisi, as if unconsciously flashes at the very beginning of the film. But he does not know about it, as "insight" is not displayed on the level of consciousness. Franciszek indulges in all serious, before re-test the condition of "illumination" or philosophical concept "deja vu": it seems like it's already happened to me. Live in the presentiment of illumination – this means intense search for the truth, frantically trying to understand others and ourselves. The main character seemed to want to incorporate into your own experience almost all of the knowledge of the world: from the Middle Ages to the theological concepts of modern scientific discoveries. And just knowing all (or rather, only that the brain is able to comprehend at the moment), he can experience life with "illumination", which is, above all, intellectual insight, which does not come by itself.
Metaphors of the tape Krzysztof Zanussi apparent in the fact that it creates a sort of project life, the model of the world. Instead of closure and short duration of the director's previous films – a wide panorama of what was then the reality of all parties (including – thanks to the wonderful inclusion in the flesh of the narrative art of documentary episodes, interviews with scientists and philosophers), and the length of time. Through the fate of a single hero Zanussi discloses a process for the formation of the younger generation in the period of summarizing the first results of their stay in the world, somewhere in the region of thirty to thirty-three years. By the way, is significant and that the "Illumination " is removed by the author as a time when its own "age of Christ."
Screenshots:
Download: