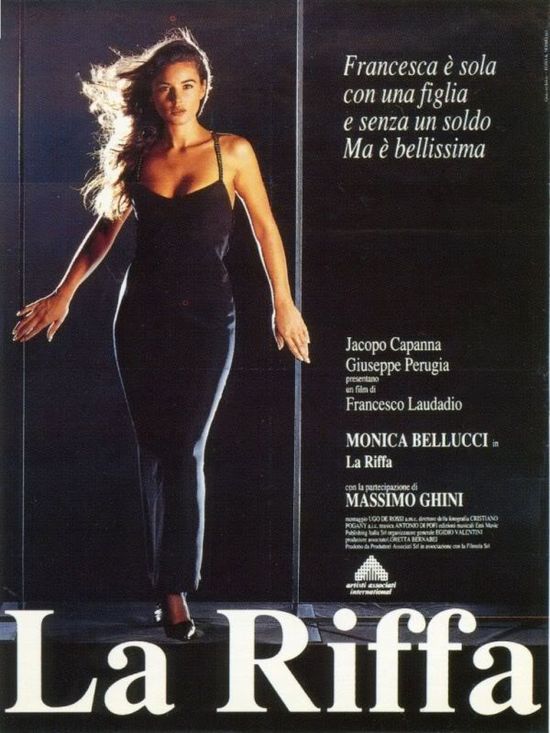 Year: 1991
Duration: 01:25:10
Directed by: Francesco Laudadio
Actors: Monica Bellucci, Giulio Scarpati, Massimo Ghini
Language: Italian

Country: Italy

Also known as: 
Description of La Riffa: Francesca, a young Italian bourgeois, who has just lost her husband, obliged to sell all property, including clothing and jewellery, to pay the debts of the husband and take care of her daughter.
Review: Clips and captures of this movie have been around for a long while but no English Subs!? Well…I've done it and I'm presenting it first right here with all the breathren gathered. This isn't a bad movie but quality of the film (sound; cinematography) is not so hot. I believe I read that it's the first starring role for Monica Bellucci. Anyway; there is another file of this movie here and it's fine but it is a spanish dub. Nothing wrong with that but this is in the original Italian.
I admit, I have spent a long time this movie several times and wanted to see it, but the 'flipping' through the film, I thought that this is an early, not a very good job of Monica Bellucci – Dummy. Almost every 15 minutes, she is naked and somehow awkward. I did not think that it is something interesting, but curiosity won out. Painfully, she is an interesting character for me.
What I want to say. The film "La Riffa" does not break away from the viewer. It is interesting and has not even matter, in my opinion. Very worthy of Monica, as always.
The only thing that did not like that the role of the seductive guy found some namby-pamby. I do not know what it charming. This error is, of course, the director. And so the plot is interesting. Woman conceives arrange an auction, and as a prize puts herself. Its beauty, youth and sexuality. And in the end, all very interesting over.
Screenshots:
Download: