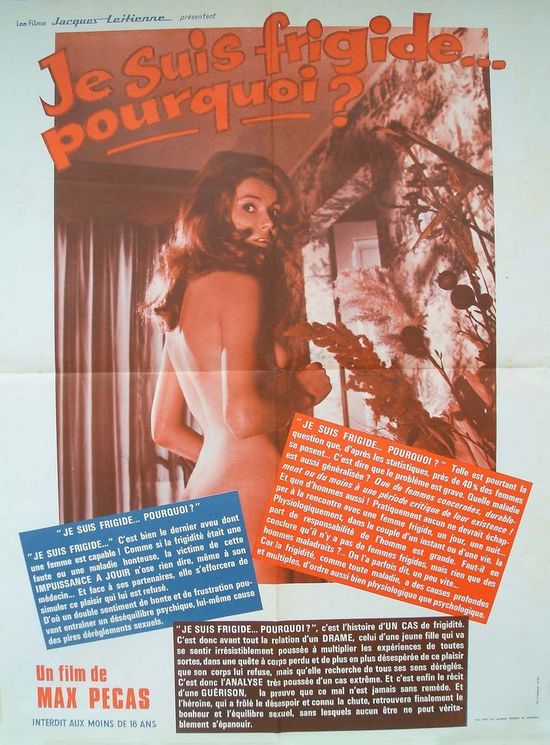 Year: 1972
Duration: 01:32:20
Directed by: Max Pécas
Actors: Sandra Julien, Marie-Georges Pascal, Jean-Luc Terrade
Language: French | English (English Subtitles)

Country: France

Also known as: Je suis frigide… pourquoi? | Yo soy frigida.. Por que? Por que? | Soy frígida… ¿por qué? | Yo soy frígida… ¿por qué? | Miten himo tulee nuoriin naisiin | Comment le désir vient aux filles | I Am Frigid… Why? | Egina psyhri meta to viasmo mou | Amore mio scaldami | Let Me Love You
Description of I Am Frigid movie:The daughter of a gardener lives with his father in a large estate. Once she becomes a witness of an incestuous relation of a son and daughter of the owner of the house. Later, meeting with theater Director, the girl understands that frigid. She tries to find a way out, in accordance with the advice of the doctors, «breaking»…
Review: Director Max Pecas' follow-up to I Am A Nymphomaniac, also starring the gorgeous Julien (glacially perfect in both and Rollin's Shiver of the Vampires, though her cool inscrutability is oft-criticized for a wooden lack of talent), I Am Frigid…Why? is generally considered the lesser of the pair. While true, this is beautifully shot and directed, with a suitably sinister edge to its sexuality reflecting the hangups of its main character (although the plot interjects a ridiculous psychiatrist who claims Julien's character subconsciously wanted to be raped, the opening act which sets both the plot in motion as well as Julien's characters voyage of troubling discovery). Neatly, the two dovetail into being one and the same.
Originally released on VHS in the US in a muddy dead-center fullscreen transfer on the Private Screenings label back in the late 80's (it's strengths still apparent, introducing me to the contradictions in Pecas' sexual universe), the film was again released on VHS in the mid-90's in a nice, colorful transfer as part of many great Audobon Films releases. Both a distribution arm for Radley Metzger – releasing English dubbed and sometimes re-edited European sex films in the 60's and 70's, including many films by Pecas and Jose Benazeraf – as well as a production company for Metzger-directed masterpieces like The Lickerish Quartet and Camille 2000, the Audubon imprimture was always a guarantee of a smarter, artier sex film.
This rip (thanks to x_man in the vintagerotic forum) is from an even more recent video release from UK Pagan Films. Apart from the dubbing, there appears to be no re-editing, though as usual with their releases, the image is a tad on the darkish side (though crisp and in the proper aspect ratio, all the better to appreciate Pecas' wonderful layered mise en scene).
Very close to a masterpiece, in my opinion (though non-Pecas fans may scratch their heads at that statement).
Screenshots:
Download: