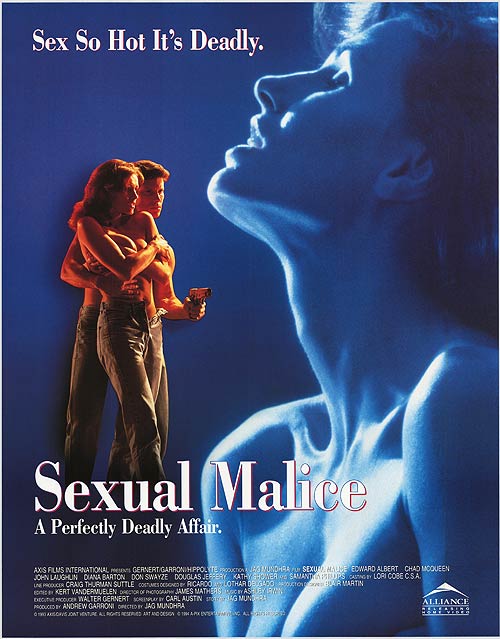 Year: 1994
Duration: 01:34:33
Directed by: Jag Mundhra
Actors: Edward Albert, Chad McQueen, John Laughlin
Language: English
Country: USA
Also known as: Sexual Malice, Night Eyes 3
Description: Christine has it all: a loving husband – a university lecturer, a beautiful apartment, and she herself sexually attractive woman. But the treacherous friend introduced her to the irresistible Quinn, with whom Chris started immensely indulge in carnal pleasures. Sex games blindfolded, with a black woman (the owner of the super-bust) proceeded so rapidly that Chris began to experience remorse (to her husband). Especially after a fantastic sexual intercourse in the booth for primerivaniya clothes in the store. And then … the murder took place, and Chris landed (without cause) in a jail cell on suspicion of murder …
Review of movie: IMDB rates this at 3.6. The people have spoken, and for once they have it about right. Sexual Malice poses as en 'erotic thriller'. It certainly isn't erotic unless your tastes run to watch a manic male stripper having sex with a beautiful young woman while a cheesy sax plays in the background. As for 'thriller', Basic Instinct this isn't.
Diane Barton plays Christine, a frustrated wife who starts to 'play away' to get her sexual kicks. The man who provides them is the stripper (Don Swazey) who has a penchant for taking snaps during the frolics. Barton, though not an expressive actress, looks a cut above this sort of tawdriness so full marks to her for getting in the swing of things and revealing her exquisite taste in underwear, and more. Opposite her, Swazey manages the impossible by looking out of his depth.
There is a potentially erotic moment when a third party is introduced into the bedroom where Christine in only her bra and panties, is tied to the bed and blindfolded. But just as things starts to really heat up, the action cuts to her returning home and creeping into her husband's bed. As soft core goes, this could not get much softer.
Screenshots:
Download: