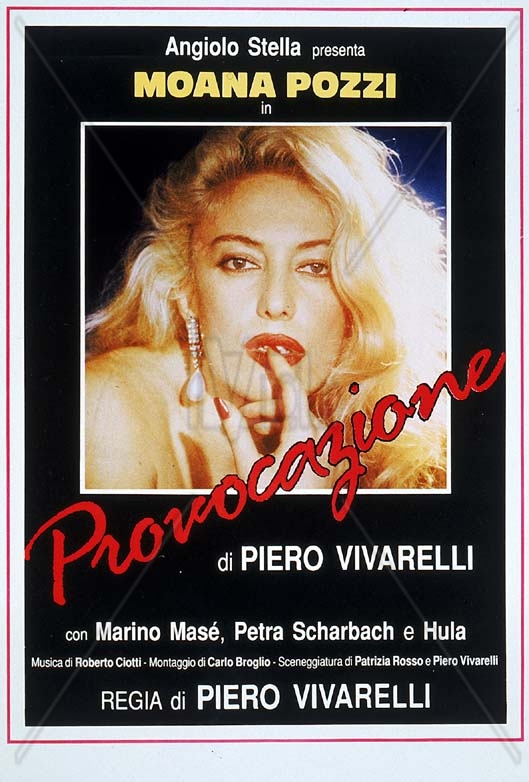 Year: 1988
Duration: 01:21:39
Directed by: Piero Vivarelli
Actors: Moana Pozzi, Marino Masé, Petra Scharbach and Hula
Language: Italian
Country: Italy
Also known as: Provocazione, Moana – Ikili taciz, Provocación, Summer Temptations
Description: The film describes the story of a very rich widow and her stepdaughters. Vanessa, was the name of the widow, decided to hire for their daughters a good coach. And the choice has been made to the old familiar professor. But it was not too long, as usual relationships developed into sexual. But what a surprise it was for Vanessa, when she learned that her stepdaughter is also attracted by the coach.
Review: Moana Pozzi was not destined to become the muse of "some" Jesus Franco or stubborn and sassy starlet like Gloria Guido, maybe that's why in her filmography, seemingly diverse, there were very few bright films even category B. That, however, does not prevent it takes pride of place on the Olympus of this trend of Italian cinema, as one of the most interesting actresses.
In the movie "Provocazione" Italian director Piero Vivarelli she played a no less interesting role of a rich widow, indifferent to sensual pleasures, for which she needed a partner, and in the living on a small, nestled among the beautiful island of the water element was difficult to find it (who does not agree – throw a stone at me.) Yes, and these sassy stepdaughter! As a result, in the film there is one more character – a "professor", who undertook at the request of the widow for teaching these two stervochek. What came of it – it is not difficult to guess.
We can say that this syuzhetets we have somewhere seen or heard or read … "Lolita" smells? Well, I do not. Nabokov never dreamed of. "The security guard for my daughter?" Also wrong. Will no longer wonder and look for similar stories. What is more important. Vivarelli managed to take a very decent (except for explicit scenes) and even claims to morality movie about three sides. One side – money, lots of money. Second – love, multiplied by the money. Third – self-interest, and uses the one and the other side. No hint of honesty and other virtues are not and should not be determined. The only question is, who will have more luck on this slippery road …
Screenshots:
Download: