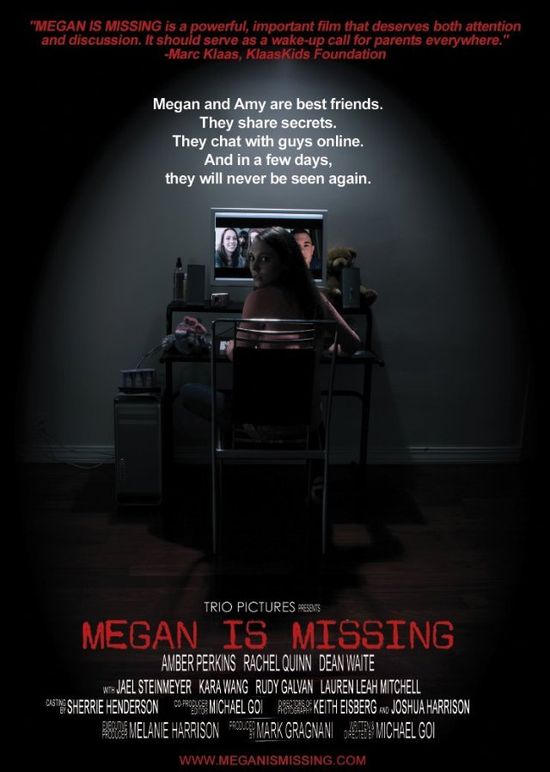 Year: 2011

Duration: 01:25:32
Directed by: Michael Goi
Actors: Amber Perkins, Rachel Quinn, Dean Waite
Language: English
Country: USA
Also known as: 
Description: Don't read any reviews beforehand! Why the movie Megan Is Missing isn't on here is beyond me, for three reasons: They filmed this movie in a week on zero budget, it scared the living shit out of me to the point of nightmares, and it's past 12 months since release. I didn't sleep for two days, and because of it I won't be posting any screenshots..And to do so would only spoil it for those who haven't seen this anyway. This is without a doubt, the most disturbing movie I've ever seen.  Very slow at first but then it picks up before you know it.
The biggest question asked: Is this based on a true story? Yep, about 5 true stories actually.

Review: It is difficult to objectively evaluate this film, because the genre of found footage surprise is almost impossible. For a sophisticated audience here probably catch and do nothing, but it is interesting to read will go.
«Megan Is Missing» – is assembling a pseudo-documentary video that filmed the girls before them had an accident. Evening talks, walks, imprinting events of the parties and stuff – that's all, what is in the movie. In the end we are able to behold the alleged real last 22 minutes, recorded with the camera of one of the girls, from which we learn what it was over.
Specific action in the film do not wait, as I have said, mainly the whole atmosphere is forced expense of conversations. Only now it is not clear on what the gadget is being written, there is a view of the webcam, the hand-held camera, the phone, which is a video connection. A lot of things done as a split screen, namely the 2 interlocutor on the other side of the camera are in dialogue.
The film is difficult to be classified as entertainment, it is positioned as a more rigid social advertising for parents who want to protect their children from, chatting with strange personalities. What we see, to this communication is not good arguments.
The saddest thing is that this reel of film is based on real events in 2007. At the end of the film there is a link to a site where you can find an actual father, raped and murdered the girl, who saw the film and wrote a letter to the creators. I can not imagine what it was like him to relive those same moments, recreating a picture of what happened. One of his sentences read:
«The internet has changed the rules.»
Screenshots:
Download: