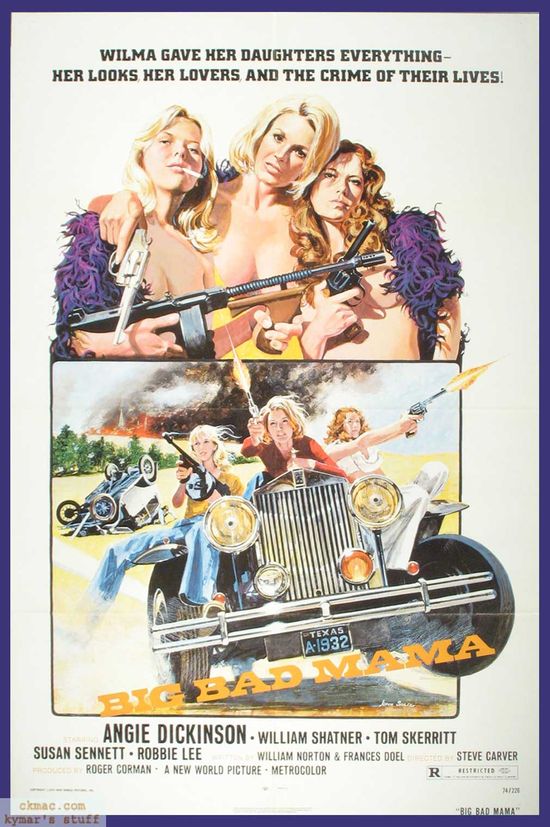 Year: 1974
Duration: 01:24:34
Directed by: Steve Carver
Actors:  Angie Dickinson, William Shatner, Tom Skerritt, Susan Sennett
Language: English
Country: USA
Also known as: A Mulher da Metralhadora, Super nanas, Liebe böse Mama, Una mamá sin freno
Description: Yet another 70s gangster exploit from Corman, though not director here.  Only Roger could bring together well known stars, have them strip naked (at various points in the film) and do it all for less than half a million dollars!  Of course, that includes antique cars chasing each other, gunfights galore and some pretty decent writing to boot.
This one follows a financially hard up gal (Angie Dickinson) and her two daughters who all find that bank robbing and fu*king like rabbits is far more fun than starving in depression era Texas.  They pick up a gunman (Tom Skerritt) and a conman (William Shatner) in their travels while robbing and kidnapping their way to a smiling fortune (with Dick Miller forever following as an unlucky cop).
This is probably the best of the Corman Mama flicks.  Certainly Dickinson is the hottest of the Corman-connected Mamas.  It's probably not the most deviant Mama flick, but it does boast sister sharing and Shatner taking Dickinson from behind.  And it follows the general Mama storyline.  Poor lady gets slapped down by the man.  She takes to the road with her kids to live a life of crime and show the 1% that while they might have smarts and money and good jobs and families and education and nice cars and houses and lots of stupid stuff, they haven't had two chicks at the same time.  Even with all their money.  Poor dumb fucks.  Anyway, robbery, mayhem, general destruction and deviant sexual behavior ensue.  So jump on the Dickinson-Shatner train and download this now.
Here's what you get:
Machine Guns

Sharin' Sisters

Robbery

Redneckery

Naked Kirk

Kidnapping

BOOBIES!!!
Screenshots:
Download: