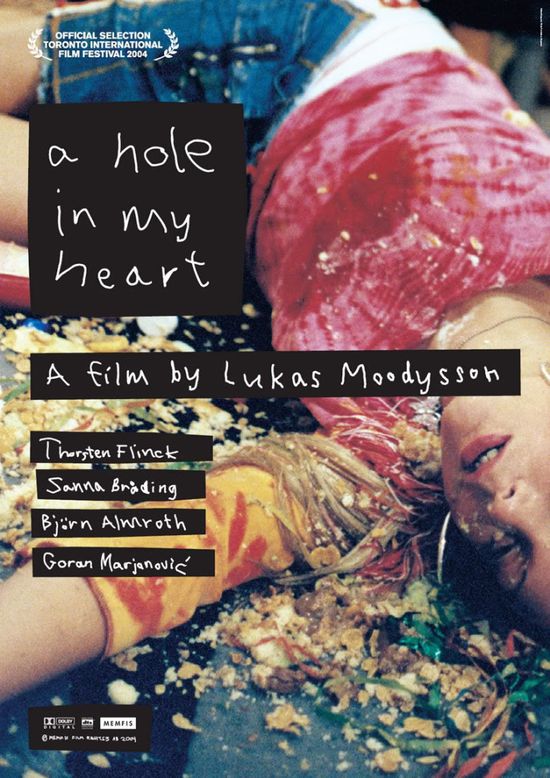 Year: 2004
Duration: 01:33:00
Directed by: Lukas Moodysson
Actors: Thorsten Flinck, Björn Almroth and Sanna Bråding
Language: Swedish with English Subs
Country: Sweden | Denmark
Also known as: Ett hål i mitt hjärta | Ein Loch in meinem Herzen | Dziura w sercu | Um Vazio em Meu Coração
Description: "A Hole In My Heart" is Swedish writer-director Lukas Moodysson's fourth feature film. Having won awards and critical acclaim with his touching debut "Fucking Amal" (1998) and the gentle satire/character drama "Together" (2000), he began a deliberate move away from mainstream crowd-pleasing and into thematically tougher and formally more experimental film-making.
His third feature "Lilja 4-Ever" (2002) was a punishing story of child prostitution unrelieved by the optimism or humour of his early work, but pales when set against his fourth – a quasi-documentary, semi-improvised and virtually plotless film about a man attempting to make an amateur porn film in his squalid tower-block flat with a messed-up young starlet and a narcoleptic friend while his disabled teenage son listens to ear-bleeding industrial music in his room.
As aggressive and confrontational as his early work was generous, the film assaults the viewer with a disorienting barrage of jump-cuts, insert shots of genital cosmetic surgery and scenes of gradually worsening degradation set against a disturbing and unpleasant soundtrack punctuated by sharp bursts of interference. Parts of the film are quite hard to watch and it was the first release since Pasolini's Salo in 1976 which was made to carry a special warning from the Swedish censorship board that it contained "disturbing images".
Audiences stayed away in droves, while reviewers were almost universally vituperative, describing the film as variously tawdry, boring, repellent and pretentious. Others (admittedly far fewer) praised the film's originality, interpreting it as a blistering attack on consumerism, consumption, celebrity/reality TV culture and a generally pervasive spiritual rot, and arguing that beneath the film's surface fury lay the same compassion and humanism which in another context had made Moodysson's early work so appealing.
It is offered here so those of you intrigued/interested can make up your own minds.
Below are a selection of positive, negative and confused comments lifted from the film's imdb page to give an idea of the strength of the reactions the film provokes. I happen to like this movie. Read into that what you will. Comments most welcome.
Screenshots:
Download: